7 Unexpected Ways to Enjoy Yellowstone

+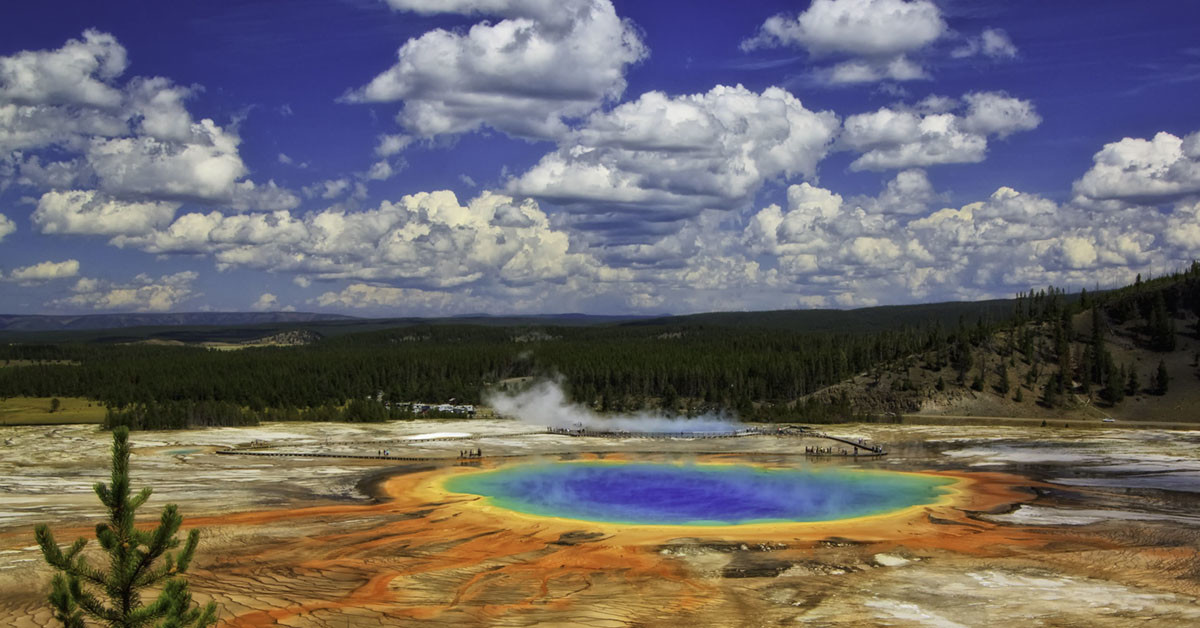 Yellowstone was the world's first National Park, and is also one of the largest, wildest, and most visited. Boasting over two million acres of undeveloped wilderness and four million annual guests, there is no end to the adventure that lies beyond the main attractions. With some local insight, a full Hydro Flask, and surprisingly little effort, you can experience Yellowstone the way nature intended. With help from Wildland Trekking backcountry guides, these are some of the best hidden gems in the park.
Geothermal Features
Lone Star Geyser
Old Faithful erupts once every half-hour to two hours, and is easy to access. There's a parking lot, bathrooms and Visitor Center, and is busy to the point that it might feel like a theme park attraction. But Lone Star Geyser, which is the perfect long walk at five (flat) miles round-trip, attracts far fewer people. Pack a lunch and grab your Hydro Flask and its trusted Tag Along Bottle Sling, then watch in amazement as Lone Star blasts water 45 feet into the air.
Fairy Falls + Grand Prismatic Spring + Imperial Geyser
The 197-foot Fairy Falls is one of the park's tallest liquid marvels, and a real jaw-dropper. But don't stop here. Most hikers don't continue past the Falls, and thus miss out on Imperial Geyser—it may be smaller than the park's most popular geysers, but it is more secluded and surrounded by a rainbow of colors. Speaking of colors, catch Grand Prismatic Spring while you're out there–but skip the often-busy boardwalk and venture just a half-mile off the main trail to an impeccably placed overlook for photos of the spring.
Wildlife Viewing
Fill your coffee flask with your favorite roast and start this drive early. Two reasons: the local wildlife is more active in the morning, and Yellowstone simply feels more magical shortly after dawn. Backcountry guides know best, and most agree that the drive along the Lower Lamar River between Mammoth Hot Springs and Soda Butte Creek is the most exquisite in the park. Here you can spot owls, eagles, osprey, antelope, bears and even wolves, plus massive herds of bison that number in the thousands. It will take about an hour to drive straight through, but with so many animals and so much riverfront, photographers could spend a full day along this stretch of road.
Hiking and Backpacking
Bunsen, Holmes, Black Canyon
Three hikes stand out among the rest: Bunsen Peak, Mount Holmes, and the Black Canyon of the Yellowstone. Bunsen Peak is a 5-star hike for its gorgeous panoramic views, moderate uphill climb, and excellent trail condition. The out-and-back hike is 4.5 miles. Mount Holmes stands 1,800 feet higher, but requires a 19-mile round trip. Prepare for either one grueling day or a two-to-three day backpacking trip. You're likely to have this summit to yourself. In June, hike the Black Canyon and immerse yourself in a wonderful world of wildflowers—even better, pitch a tent and sleep in it. The trail meanders through a 2,000-foot-deep canyon and offers a dozen or more beautiful campsites along the river.
Fishing
Most people want to park their car and trot a few feet to the water's edge to fish, but there is outstanding angling to find if you're willing to hike. To enhance your Yellowstone fishing experience, fill up your 32oz Wide Mouth Hydro Flask for a big day on the water. Park at the Soda Butte Creek Trailhead and starting your fishing there, then walking a couple of miles to fish at the intersection of the Lamar River and Cache Creek. Pick a stream to follow and walk up—on rainy days, stick with the creek because sediment builds up quickly in the river.
In late July and early August, the fishing is top-notch near the Hell Roaring Creek and Black Canyon trailheads. Walk two or three miles in and spread out along the expansive riverfront.
Late in the season, hike up Lewis Channel to catch the salmon migration. The fishing is exceptionally fun here in the fall. There are campsites in the same general area, around Lewis Creek and Shoshone Lake. The most adventurous anglers should head to the park's northeast corner and hike about eight miles in along Slough Creek until reaching the third in a series of four meadows. This area is known to produce some of the largest cutthroat trout in North America. The walk in is too long for a quick fish; for the best experience, you'll want to bring plenty of fluids in your 40oz Hydro Flask.
A Different Kind of Hot Spring
Both Dunanda Falls and Union Falls offer great rewards for trekking into the park's southwest region, known as the "Cascade Corner." It helps that both trails are completely flat, but they certainly make up for it in distance. Dunanda Falls is eight miles in, and the meadows you pass are awash in huckleberries, strawberries, and whortleberries as you approach the 150-foot waterfall. At the bottom of the falls is a large, natural hot tub, safe for a relaxing soak. Union Falls, the park's second tallest waterfall at 250 feet, is an eight-mile one-way walk. This breathtakingly beautiful area is often empty of tourists, so you can enjoy your own private waterfall and natural hot tub while you sip some wine from your Hydro Flask Wine Bottle and Tumblers with your adventure buddies.