We partnered with the South Australian Tourism Commission to direct you to Australia's best vineyards. Don't just taste wine in Adelaide, South Australia—experience it. Learn more here.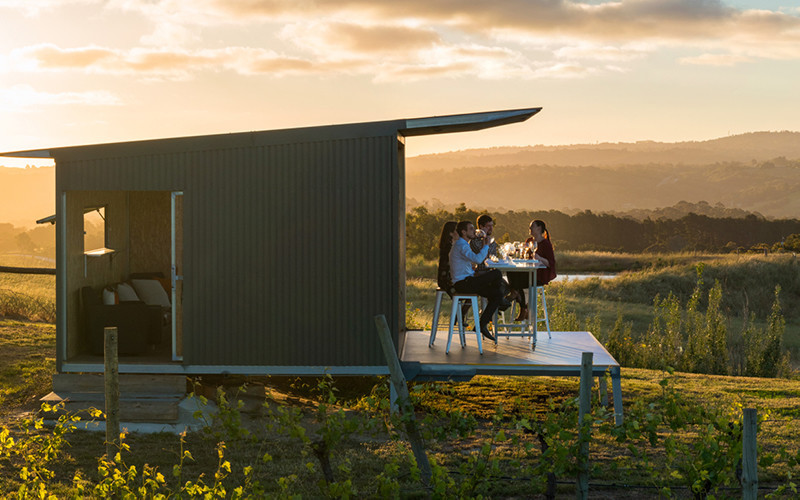 The Lane Vineyard, Adelaide Hills. Courtesy of South Australian Tourism Commission // Adam Bruzzone
The state of South Australia defies categorization. From sweeping, untouched sea views, to locally sourced and inventively served food and wine, to striking landscapes and wildlife, South Australia connects travelers to the land through WOW experiences: Wine, Outback, and Wildlife.
You'll want to spend at least four days here—experiencing as many of the 200 cellars and hybrid distilleries as you can. Hire a local company to provide a tailored tour itinerary and do all the driving, or rent a car and explore on your own. Either way, you can expect nothing less than true Australia. Here's where to start.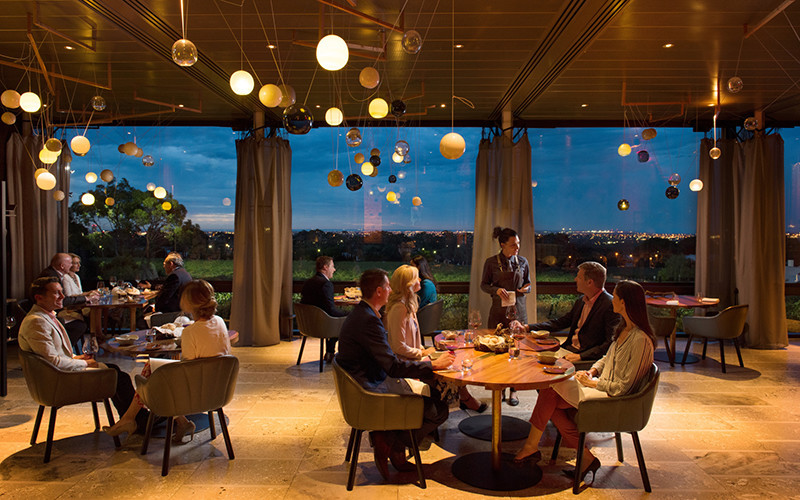 Penfolds Magill Estate Restaurant, Hahndorf. Courtesy of South Australian Tourism Commission // Adam Bruzzone
Day 1: The Adelaide Hills
East of the city in Adelaide's foothills, you'll find Penfolds Magill Estate, one of the brands that has placed Australian wine front and center on the world wine map. Here, old meets new as modern dishes, like wagyu with mustard cream and pickles, are served to you at tables that overlook Penfold's 175-year-old vineyard. A glass from The Penfolds Collection—their premier family of fine wines—is the perfect way to start your exploration of Australia's best wines.
Continue on the trail by following Old Norton Summit Road past gullies and ranges to an 18th-century church turned wine lounge, Lost in a Forest. Local reds command the wine list, with standouts including the Les Fruits "Vince" Pinot Noir from nearby Piccadilly, or "Nebbiolo" by boutique producer Spider Bill Wines. The stained glass windows, reminiscent of the building's church origins, make eating their pizzas—such as the 'Shroom, featuring confit garlic, three types of mushrooms, organic blue cheese, mozzarella, sage, and truffle salt—a serene experience.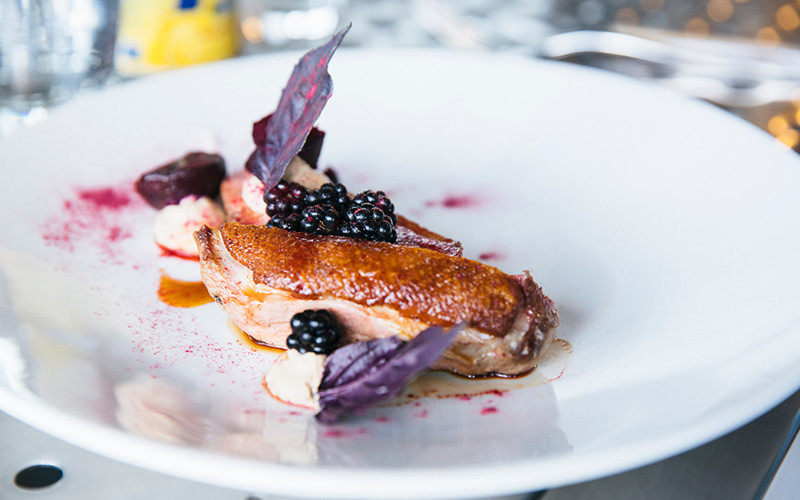 Courtesy of The Lane Vineyard // Gerard Wood
After pizza you won't feel like going straight to dinner, so head to The Lane Vineyard in the outskirts of the German-style village of Hahndorf for an easy afternoon hangout. Relax on the deck in true Australian fashion while taking in sweeping views of the Hills. Try the 'Block' series to get a true sense of the terroir, as each bottle is named after the individual patch of earth in the vineyard where its wine was grown. This specificity extends to the other bottles on the menu, with fruits identified by the GPS coordinates of their location within the estate grounds.
Now, don't be totally misled by all the wine; Adelaide Hills also has a strong spirits presence, particularly gin. Enter: Ambleside Distillers. Wander through the botanical garden and indulge in a tasting flight of its three tantalizing signature gins, or book a Gin Blending Masterclass to find out the secret botanical ingredients in these award-winning blends. Every gin has a story; for example, Kifarum is inspired by native ingredients from nearby Monarto Zoo: mint bush, coffee, chocolate, and wattleseed hazelnut.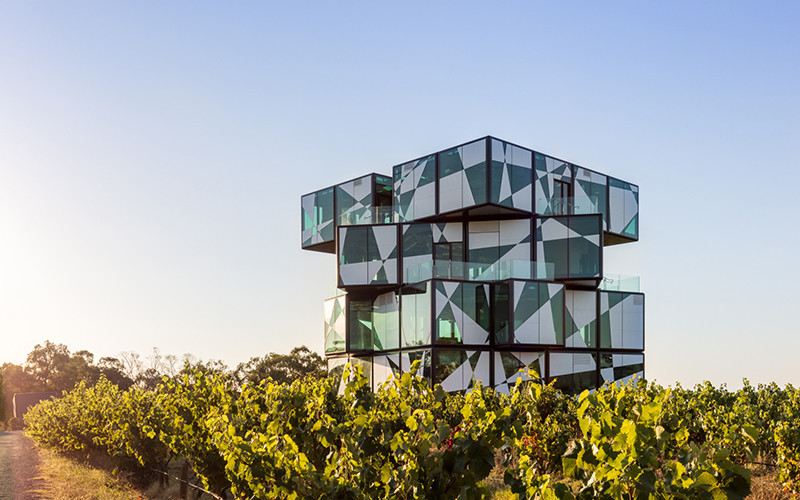 D'Arenberg Cube, Fleurieu Peninsula. Courtesy of d'Arenberg Pty Ltd
Day 2: McLaren Vale
Today, head 45 minutes south of Adelaide to McLaren Vale, a world-class wine and culinary region. The d'Arenberg Cube—an architectural spectacle and nontraditional experience conceived by creative wine genius Chester Osborne—is an undeniable highlight. Basically, it looks like giant cube puzzle amidst the grapes. Inside Osborne's glittering structure, visitors can wander through five sensory-stimulating levels, tasting wine and viewing art installations along the way. Be sure to try something from the iconic Shiraz series; expect a fruity explosion of plum, blackberry, licorice, and spice as eclectic and intense as your experience at d'Arenberg.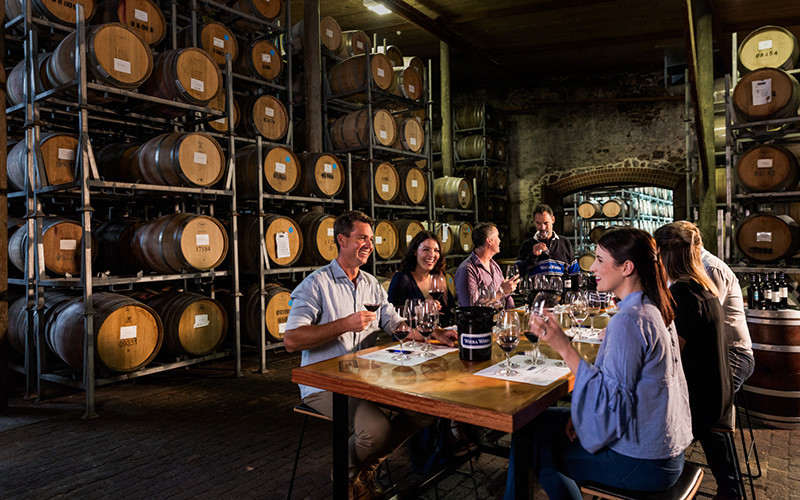 Wirra Wirra, Fleurieu Peninsula. Courtesy of South Australian Tourism Commission // Jonathan van der Knaap
Up next, you have a few options. Shed-turned-cellar Alpha Box & Dice is just around the corner from the d'Arenberg Cube. Its mish-mash of vintage art, ruby-red and mustard couches, and treasure chests as tables make it an excellent spot for a cozy glass of red—the makers have set out to create a style for every letter of the alphabet. Alternatively, the playful acres of Wirra Wirra Vineyards are just a short drive through McLaren Vale's winery heart and are home to a local favorite red blend, "Church Block," and the "12th Man" Chardonnay, a must-try white, with nectarine, peach, roasted nuts, and lemon juice notes. Exclusive wines—as well as access to their coveted BBQ area—are offered only to visitors.
Dinner is at the Star of Greece Cafe, a luxurious Mediterranean bistro that perches on a hill above the sands of Port Willunga Beach. Try the southern version of fish and chips (featuring South Australia's favorite fish, the King George whiting, that has been "crumbed") as the sun dips below a shimmering gulf horizon in a spectacle of reds, oranges, and yellows.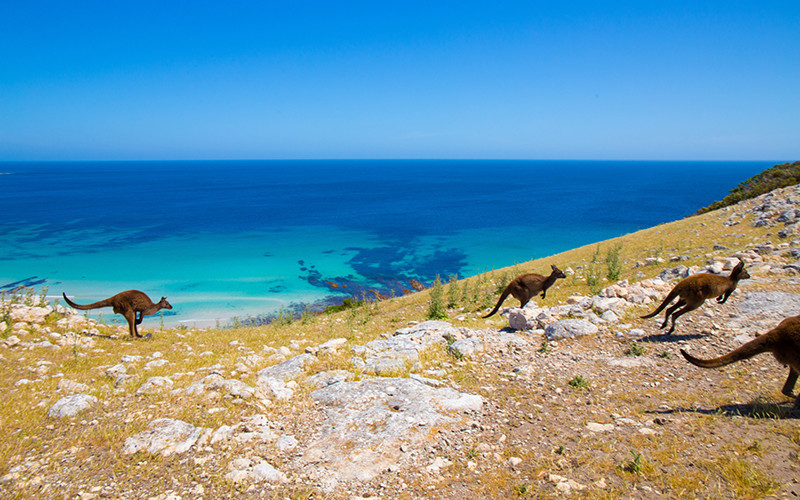 Kangaroo Island. Courtesy of Lachlan Swan
Days 3 & 4...and more: Kangaroo Island
Southwest of Adelaide, off the mainland, lies Kangaroo Island, a remarkably untouched wildlife sanctuary known primarily, of course, for the eponymous marsupials who, alongside koala, wallabies, echidnas, and other native animals, roam the protected lands. You're going to want a few days here. From Adelaide, it's a short 25-minute flight, or you can drive south along the highway, hugging the Gulf Coast, down to Cape Jervis, where you'll catch the Kangaroo Island ferry for the 45-minute ride to Penneshaw.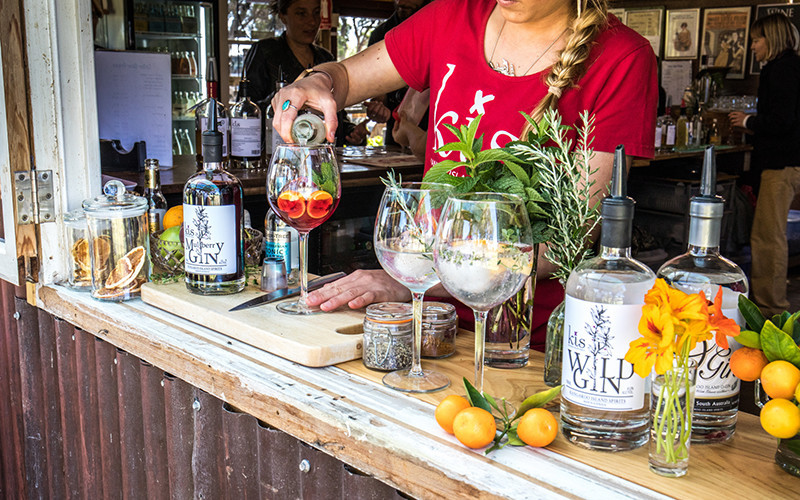 Kangaroo Island Spirits. Courtesy of South Australian Tourism Commission // Duy Dash
The order in which you want to attack your island itinerary is up to you, but Dudley Wines should be one of your first stops. Produced with local fruit, winemaker Brodie Howard's unique varieties reflect "KI's" cooler climate. If you're in the mood for beer, though, Drunken Drone Brewery is always an option. Crisp and creative gin blends more your thing? Award-winning Kangaroo Island Spirits is well worth a visit, not least for its Whiskey Barrel Aged Gin, a revolutionary intersection of spirits.
All that imbibing means you'll probably want to get your feet moving. Explore the sand dunes of Little Sahara, swim world-famous Vivonne Bay, and then visit Seal Bay to say hi to the seals who call the area home—from afar, of course. Preservation is the name of the game here, people.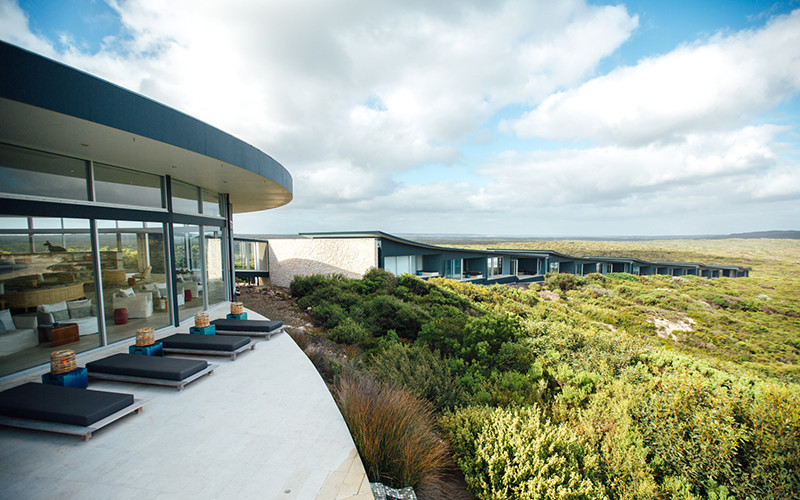 Southern Ocean Lodge. Courtesy of South Australian Tourism Commission // @Canon_ Photos
Although you are well and truly in the great Australian outdoors, you can finish your trip on a special note and treat yourself to an unsurpassed couple of nights in Australia's luxurious Southern Ocean Lodge. Atop a secluded bush headland, enjoy uninterrupted Southern Ocean panoramas, sink down into the luxe, peaceful bath, reflect on the past fabulous four days, and think about what other adventures await in South Australia.
Start planning your Australian food and wine adventure to intriguing, and eternally tempting, South Australia today. Learn more here.