The Island Getaway That's Closer Than You Think


+

Hilton Head Island offers a slice of island life like no other, right on U.S. shores.
To Kendra Thornton, a member of the Travel + Leisure Travel Advisory Board (TAB)—a select group of travel professionals chosen for their expertise in pinpointing the best places to visit, including domestic destinations worthy of distinction—island life means being able to wear your bathing suit and no shoes for an entire day and it being completely acceptable. Hilton Head Island in South Carolina's Lowcountry, with its wide-open beaches, serene natural beauty, and warm and welcoming community, fits the bill. "Hilton Head Island is a great getaway because you have the benefits of the privacy from being on an island but with all the amenities of a high-end vacation destination," she says.
"The pines, the marsh, the salt in the air from the ocean, and then the soothing sound of crashing waves in the distance and the warm glow of the sun on my face, it's perfection," she says. Here are a few more reasons why Thornton thinks Hilton Head Island makes for a fantastic island vacation.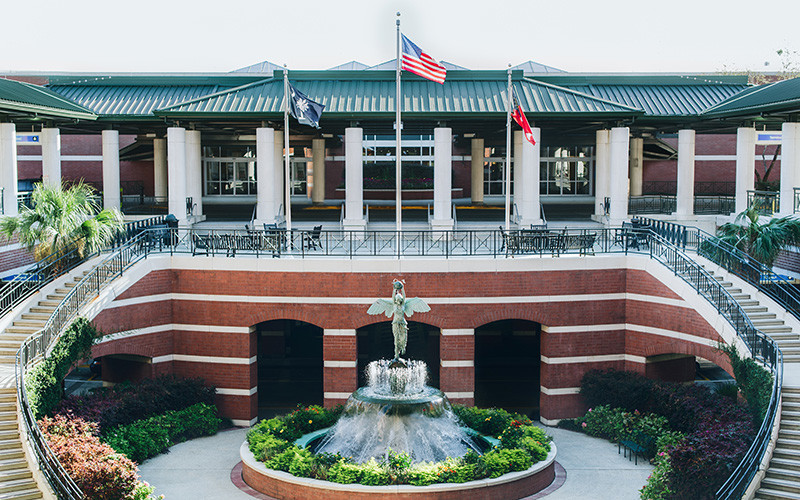 An easy-to-reach location that feels away from it all
Getting to Hilton Head Island is easy; nine airlines fly direct from 27 cities around the country into the Savannah/Hilton Head International Airport (SAV), which is a short drive from America's Favorite Island®. For seamless transfers, the award-winning airport offers a slew of car rental agencies and ground transportation, from ridesharing apps to taxis.
But flying isn't your only option. "Hilton Head Island is also popular as a drive-to destination," Thornton says. "My family and I have driven there from our home in Chicago many times."
Beaches stretch as far as the eye can see
Famous for sea and sand, Hilton Head Island has 12 miles of wide open, pristine beaches. "I've always been a lover of a good beach vacation and seeing those beaches on Hilton Head Island, it was love at first sight," says Thornton. Some of her favorites are Folly Field and Fish Haul, which both have plenty of room to relax, and Burkes Beach, a top local surf spot.
"I love the mix of beach and forest that you find on Hilton Head Island, which was a surprise to me at first," she says.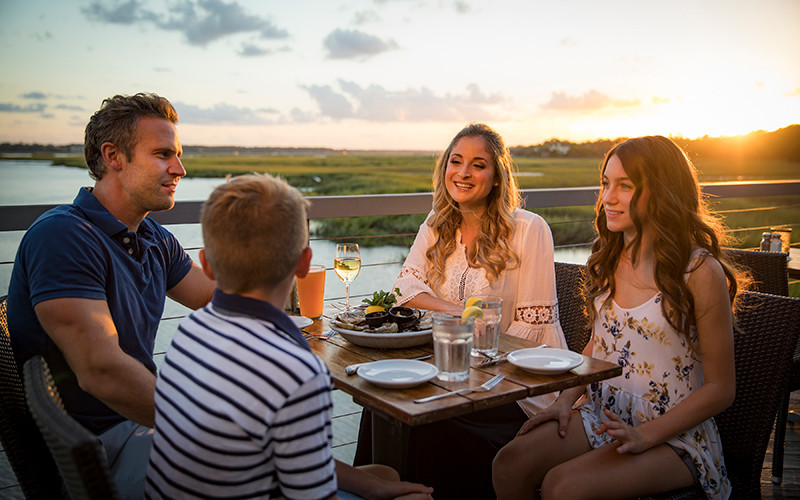 Lots to do within your multigenerational travel bubble
Vacationing with kids, parents, and grandparents means juggling a lot of interests and needs, especially if you add in aunts, uncles, and cousins. "I want family vacations to be a time where we can all connect in a quality way, where there's something uniquely fun for the kids and for the adults to enjoy," says Thornton. Hilton Head Island has it all: golf, great food, quiet nature trails for solo reflection, and activities the whole family will love.
"We all look forward to chartering a boat and heading out to fish for the day with a local fisherman," says Thornton. "The kids learn so much about the marine wildlife and love the sport of fishing. The best part is dinner that night is always whatever they were able to catch that day."
A new place that still feels like home
With plenty of welcoming accommodations, including luxurious hotels and spacious vacation homes, it's easy to get comfortable in this barrier island. "Villas and private home rentals are so accessible on Hilton Head Island, which is one reason it's a perfect family and multifamily destination," says Thornton. "You can find a home to fit about any size family and budget."
Designed with environmental preservation in its master plan, Hilton Head Island was one of the first resort destinations in the country to use this sustainable approach and today it has a network of charming communities. "I don't think people fully understand the private nature of the communities," says Thornton. "Each one has its own personality and experiences."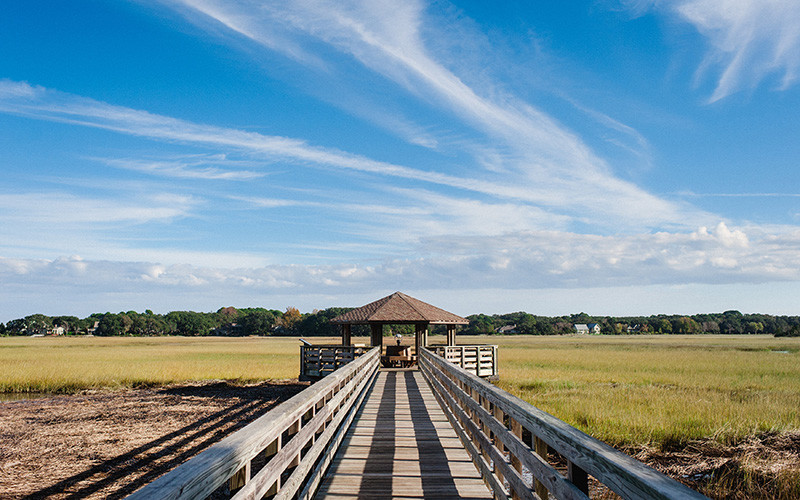 Natural discoveries and centuries of history within reach
In a time of remote learning, the Lowcountry has so much to offer students, from vast wildlife refuges to historic settlements on or near the island. "Having grown up traveling I've always valued how much a child can learn outside of the classroom," Thornton says.
The Coastal Discovery Museum, a Smithsonian Affiliate set on the 68-acre Honey Horn property, is an outdoor educational space showcasing the island's environment and heritage through land and water excursions; the first freedman's village is located right in the Historic Mitchelville Freedom Park; Gullah and Geechee culture is ever present on Hilton Head Island; and nearby Daufuskie Island, which is just a short ferry ride away, also offers historical learning experiences and gives folks a chance to step back in time.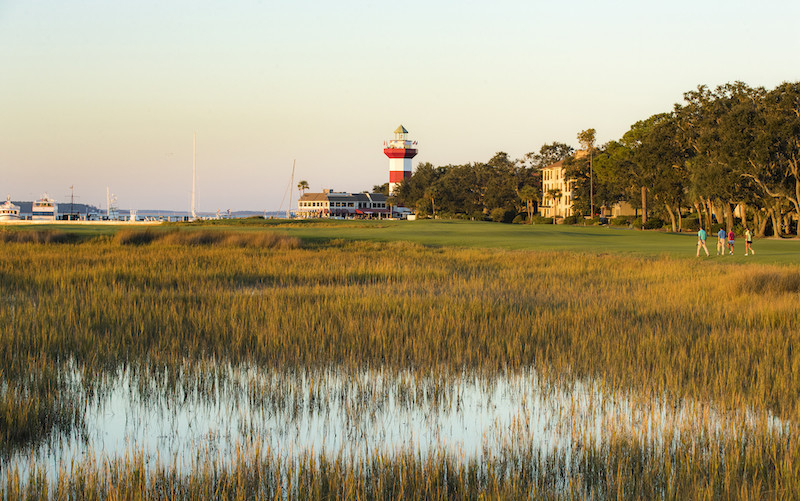 Top-notch golf courses with great views
Although the island is only five miles wide and 12 miles long, it still boasts 23 world-class golf courses. "Golf is always at the top of our family's list because there are so many incredible courses," Thornton says. Among the neighborhood greens, there are public courses at The Sea Pines Resort, Palmetto Dunes Oceanfront Resort, Port Royal, and Shipyard, to name a few.
Everything is biking—distance
With more than 60 miles of leisure pathways, Hilton Head Island is one of the most bike-friendly communities in the U.S. "The kids love renting bikes," says Thornton. "That is something we always have to do on the first day, so they have the freedom to ride around and visit the Palmetto Dunes General Store for candy and ice cream whenever they want."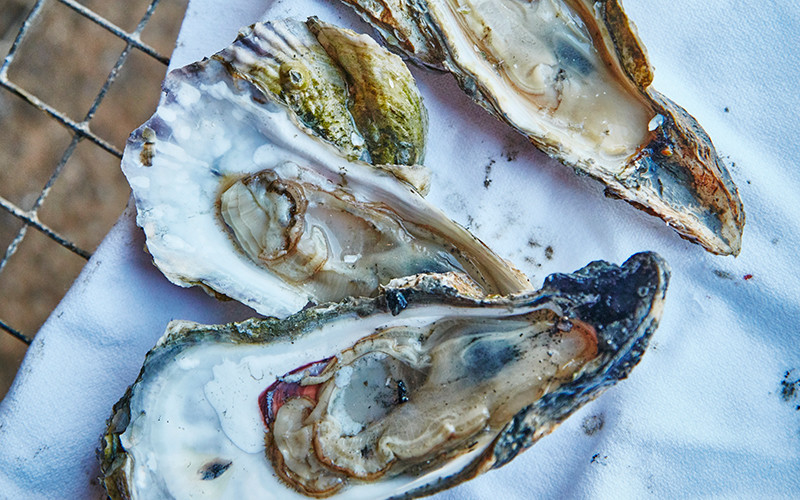 Seafood that doesn't travel far to reach your plate
Fresh seafood is essential to an authentic island vacation, and it's easy to order fresh island specialties such as shrimp, oysters, and Atlantic blue crab because Hilton Head Island has more than 250 restaurants. "There are some incredible dining options," says Thornton. "I love that we can eat at a different restaurant every night and love every one of them. I don't want to cook on an island vacation so that is important to me."
If you do want to cook, though, you'll find great seafood purveyors, a farmer's market, and bakeries, as well as convenient grocery stores, all within easy reach, and there are tons of takeout options and even in-home chefs for hire. SERG Takeout offers made-from-scratch, fresh-frozen meals and there are several personal chefs on the island who work with visitors.
For more Hilton Head Island getaway ideas, visit here.