Health
How to Buy the Perfect Pair of Travel Shoes

+

Comfort is key, but that means different things depending on where you're going.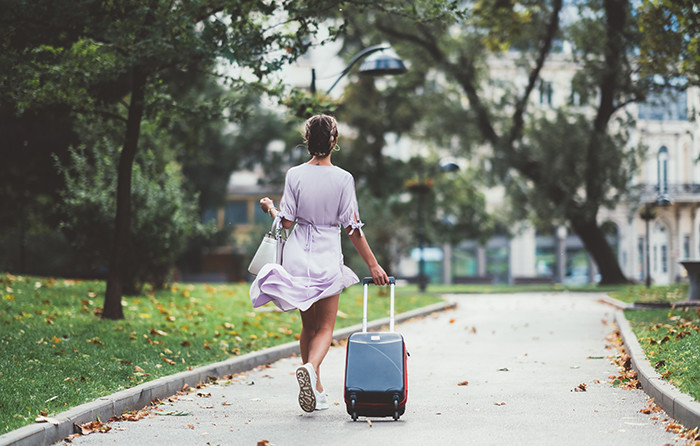 Before you throw your favorite sneakers or a cute pair of sandals in your suitcase, stop and think for a minute: Just how much and what kind of walking are you going to be doing? Because nothing will stop you in your tracks faster than an uncomfortable pair of shoes that leaves your toes blistered and your arches sore. Take these tips with you the next time you go shopping so that foot, leg, or back pain doesn't slow you down:
No Matter Where You're Going, Make Sure Your Toes Have Wiggle Room
When you're shopping for travel shoes, there are a few golden rules to follow. The first is a no-brainer: Make sure they fit! That means not just buying the size marked inside; go by how the shoes actually feel on your feet. Your toes should have space to wiggle, and the shape of the shoe should match the shape of your feet. (Pro tip: Buy at the end of the day, which is when your feet are at their largest.)
Another Thing to Keep in Mind: Socks Matter
This is when you'll want to skip 100 percent cotton. Socks made from a combination of acrylic, nylon, and spandex help keep your feet dry and provide extra padding for comfort. Make sure to try on your shoes with the socks you'll wear on your trip to ensure the best fit.
One More Small Thing to Pack
While you may end up sore after walking eight miles around a city no matter what (in that case, make sure to toss some Advil in your bag, too!), the right shoes can prevent unnecessary pain or injury.
The Best Shoes for Exploring a City On Foot: Ones Designed for Sustained Low-Impact Activites
When you're racking up your 10,000 steps and then some, you need a shoe that's designed specifically for that kind of long, low-impact activity. So don't just grab the coolest-looking pair of running sneakers at your local sports store. Look for walking shoes with features like an Achilles tendon protector, which helps reduce stress on that tendon; a snug heel collar to stabilize and cushion your ankle; and either a gel, foam, or air midsole, which will cushion your foot and reduce the impact when your foot hits the ground. Some running shoes may do the job, but if you're not sure, talk to a salesperson to get more info on a shoe's unique features.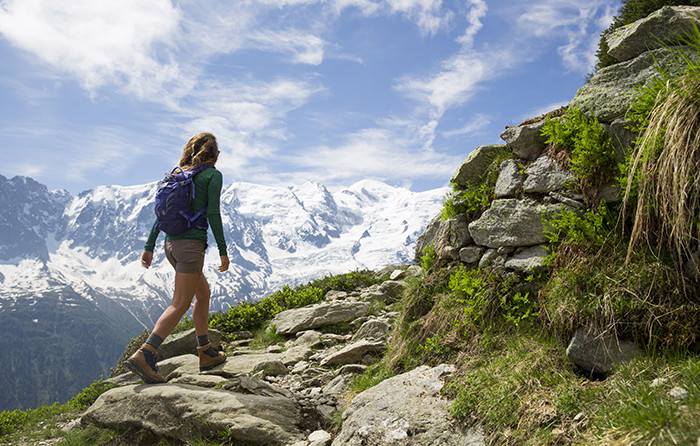 The Best Shoes for Trekking Over Mountains: Hiking Shoes Made for the Trails You're Taking
No hiking trail is the same, and different types of trails call for different hiking shoes. If you're moving quickly on a day hike, look for low-cut, lightweight hiking shoes with flexible midsoles (think: more sneaker-like in shape).
If your day hike is a little more intense or you're going on a short backpacking trip, go for day hiking boots, which come in mid- to high-cut models. They're still flexible, but more durable than low-cut hiking shoes. And backpacking boots are the sturdiest of the bunch: They're made to help you carry heavier loads on multi-day trips, and have a high cut for extra ankle support and stiffer midsoles to stand up to rougher terrain.
The Best Shoes for Strolling on the Beach: Secure Sandals
Flip-flops may be the most convenient (and cheapest) kicks for hot weather, but they're really terrible for your feet. Even the sturdiest pair offers barely any shock absorption or arch support, and they put stress on your toes, too. Instead, opt for sandals that have straps to secure around your ankle for added stability.
For more support, choose sandals with cork midsoles instead of rubber soles, while sandals made of high-quality, soft leather will help minimize the potential for blisters and other irritation. And if you're committed to sandals but plan to be walking a lot, choose a pair designed for rafting and hiking—they tend to have more supportive arches. Can't give up your beloved flip-flops? Pack another pair of supportive shoes or sandals, and switch off every day to give your feet a break.