We partnered with Southwest Airlines to celebrate Southwest's flights to Hawaii; you're able to fly from the contiguous United States to Oahu, Maui, the Island of Hawaii, and soon to Kauai. Southwest's latest routes make the islands more accessible than ever, but which flight is best for you depends on the special attributes of each island. This is part one of a four-part series — be sure to check out our profiles of Maui, the Island of Hawaii, and Kauai.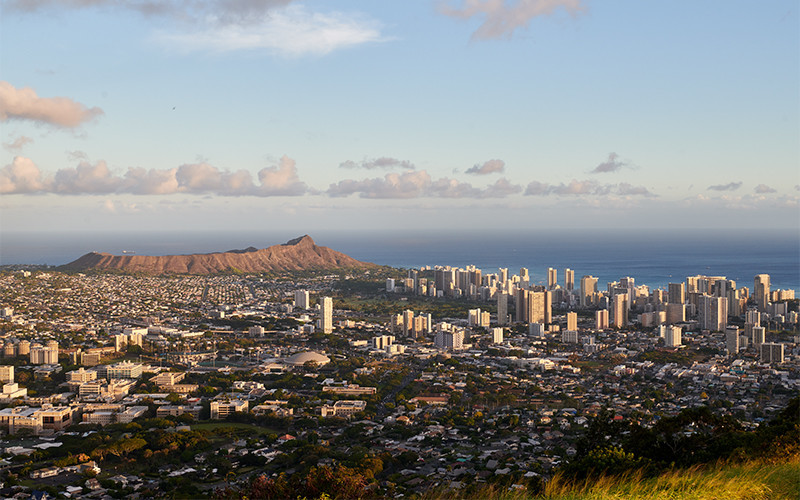 As the most populous and multicultural island in the state, Oahu is an urban adventurer's wonderland. Renowned for city-bound, back-country, and late-night offerings that attract travelers from all over the world, the island has a nickname — The Gathering Place — that is well earned. Looking to taste eclectic flavors? There are plenty of folks here who are infusing the culinary scene with innovative ideas. Festivals or shopping more your speed? Oahu's got those, too. And when you're ready for a quick break from the excitement, quiet relaxation awaits just up the coast. There is no lack of interesting ways to connect with Oahu's local culture.
A Dizzyingly Diverse Food Scene
Honolulu: one of the few places on the planet where you can enjoy classic American fare for breakfast, traditional Hawaiian food for lunch, impeccable Japanese for dinner, and piping hot Portuguese pastries for dessert — then follow it all up with a different carousel of world cuisines the next day. Infused with a vibrant immigrant history, Oahu's state capital is an epicenter for cross-cultural exchange, one that manifests right on your plate thanks to countless fusion restaurants.
Bring your appetite to the city's Chinatown, one of the oldest in the United States, where family-run dim sum eateries hold their own beside a new class of pioneering chefs who are making their own distinctive marks on the neighborhood. Their inventive menus are redefining everything from Vietnamese staples at The Pig & The Lady to jaw-dropping farm-to-table gastronomy at Senia.
Sensational Shopping, Big or Small
It's impossible to leave the island without a unique souvenir. At Ala Moana Center, the world's largest open-air shopping mall, you can dip into dazzling high-end designer stores, many with Hawaii-specific capsule collections. But don't skip the smaller local boutiques at nearby South Shore Market in Kakaako — a one-stop complex spotlighting emerging creatives — where you can find retro-modern boardshorts from Salvage Public and native-flora-printed sundresses at Kealopiko. Spend a leisurely late morning in walkable Kaimuki, where independent bookstores and off-the-beaten-path vintage stores around Waialae Avenue are enticing more tastemakers to the district.
Surprising Nonstop Nightlife
Once the sun sets, take a stroll along Kalakaua Avenue, the main thoroughfare of Waikiki, which lights up with street performers nightly. Blue Note Hawaii, near the beach, swells with the sounds of eclectic international talent, and Kani Ka Pila Grille's mellow Hawaiian music entice visitors in for cocktails.
Recently, Kuhio Avenue, the street that parallels Waikiki's main strip, has been undergoing a major renaissance. Today it's bursting with design-minded bars like Hideout (located at The Laylow, the trendy new-kid-on-the-block hotelier) and the kitschy-but-cute Myna Bird Tiki Bar tucked away in the newly renovated International Market Place. Or, head around the corner to Kalakaua and dance away, Mai Tai in hand, at SKY Waikiki, a rooftop bar that overlooks Honolulu's dazzling lights.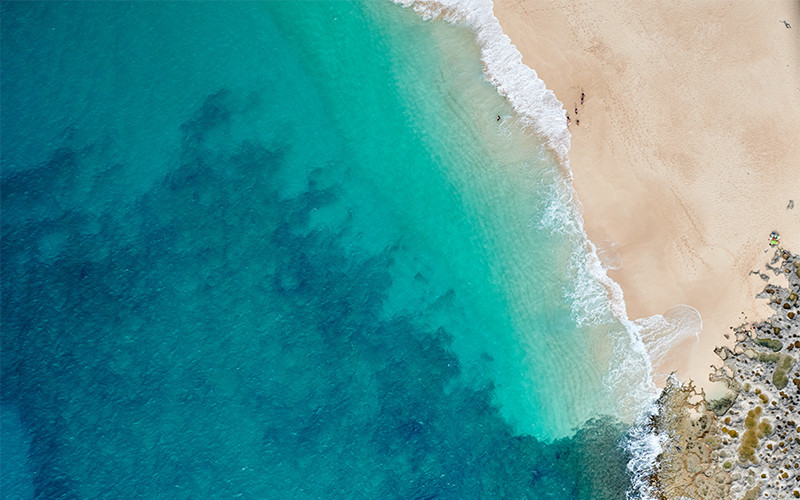 Recharge on the North Shore
When you're ready to escape the hustle and bustle of Honolulu on the south shore, it's simple: head north. An hours' drive in, you'll know you're going in the right direction as the resort towns and glitzy high-rises are steadily replaced by the sprawl of pineapple fields and Haleiwa Town's humble storefronts.
Stop into the famous Matsumoto Shave Ice for a quick refresher — the rainbow shave ice is practically a rite of passage — before cruising the coastline which is known for its concentrated stretch of surf breaks. Waterfall hikes at Waimea Valley and snacks at any of the many shrimp trucks are obvious favorites. Watching the sun kiss the horizon is exceptional no matter where you are on Oahu, but experiencing sunset on Sunset Beach, in the middle of Seven Mile Miracle, is sublime.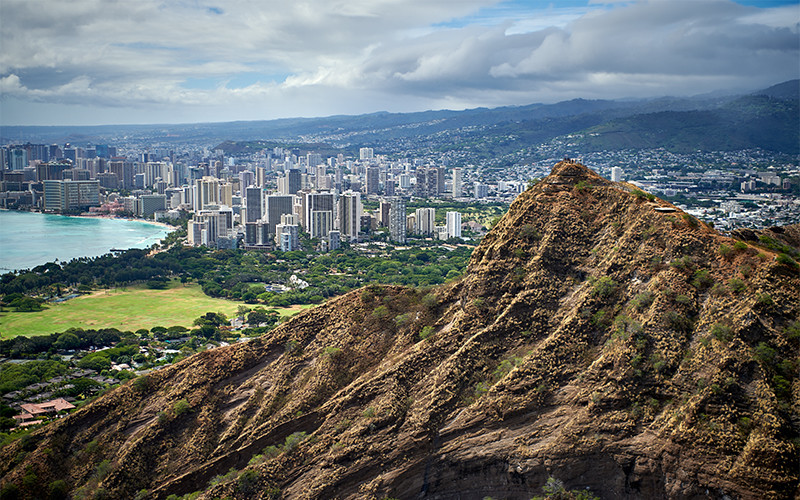 Meaningful Festivals All Year
Wonderfully temperate weather all year round means it's always primetime for an outdoor celebration. In the summer, the islands honor Hawaii's first monarch, King Kamehameha, with epic floral parades, the largest of which — the King Kamehameha Celebration Floral Parade — weaves through Honolulu from downtown to Waikiki. In the winter, join the crowd cheering the elite surfers vying for trophies at the Banzai Pipeline, the most iconic competitive surf break in the world.
Authentic Poke Galore
Hawaii is the birthplace of poke, the beloved local staple consisting of thick cubes of raw fish flavored with marinade and garnishes such as kukui nut shavings, seaweed, and sweet onions. Get a taste of these authentic island flavors and do as the locals do: Queue up at long-standing favorites like Tamura's or Tamashiro Market. These delis serve up more options than you can fathom. Proximity to the sea promises poke trays stocked with the freshest catch you've ever had and make this the perfect meal for a beach picnic.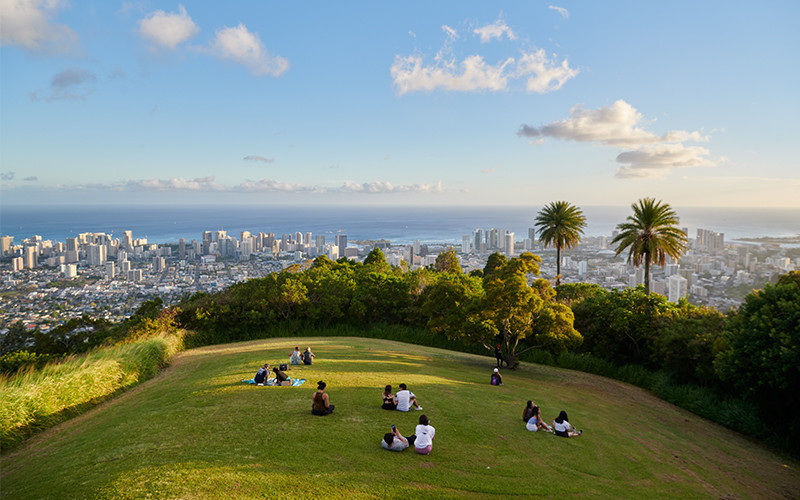 Art Lovers Unite
Oahu has a remarkably robust arts scene. The magnificent Bishop Museum, which houses the world's largest collection of Pacific Island artifacts, is a must for history buffs. Visit its Hawaiian Hall to learn about traditional village life and heiau, or places of worship, through educational exhibits. (If you wish to see some of these ancient structures for yourself, the best examples are just a quick plane ride away on Maui and the Island of Hawaii.)
For contemporary art, make your way up to Spalding House, the Honolulu Museum of Art's second location, perched on a hilltop. The grounds are so beautiful that you might be tempted to spend most of your time outside rather than viewing the contemporary galleries and the permanent David Hockney installation you actually came to see.
It's impossible to miss the colorful large-scale graffiti murals visible in a drive-by of Kakaako, but if you park and take a walk to see them up close, you'll also discover smaller indie galleries, like Aupuni Space, with exhibitions that champion native and local artists.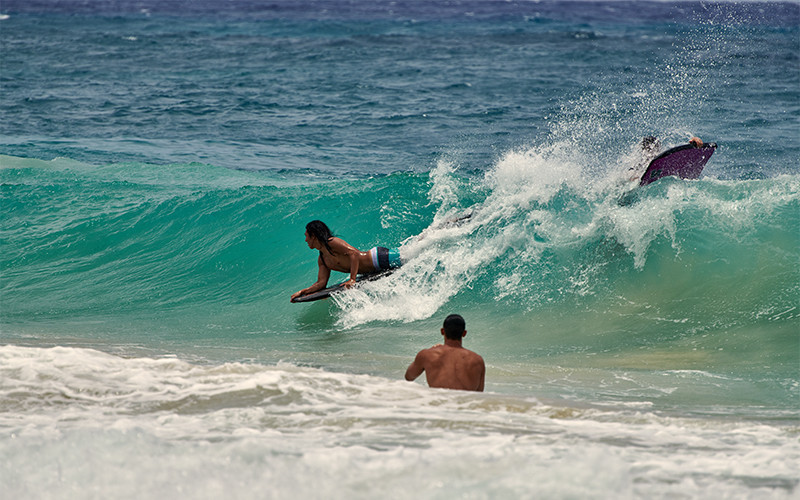 Surf's Up for All
Among all the islands, Oahu has the widest range of aquatic activities readily available for all experience levels. Beginners can get their feet wet with surf lessons from a Waikiki beachboy at Canoes, the south shore's friendliest beach break, while more advanced adrenaline-seeking surfers can find their stoke with the lineup at Bowls. Yogis who want to stretch it out in a new way can trade their yoga mats for standup paddleboards in the gentle protected waters of Ala Moana Beach Park. And if mingling with sea life is what you're seeking, snorkel at Hanauma Bay on the east side, renowned for its scenic marine ecosystem.
Check out our guides to Maui, the Island of Hawaii, and Kauai to figure out which of Southwest's latest routes is right for you. Or, click here to start planning your trip to Oahu today.