We partnered with Southwest Airlines to celebrate Southwest's flights to Hawaii; you're able to fly from the contiguous United States to Oahu, Maui, the Island of Hawaii, and soon to Kauai. Southwest's latest routes make the islands more accessible than ever, but which flight is best for you depends on the special attributes of each island. This is part four of a four-part series — be sure to check out our profiles of Maui, Oahu, and the Island of Hawaii.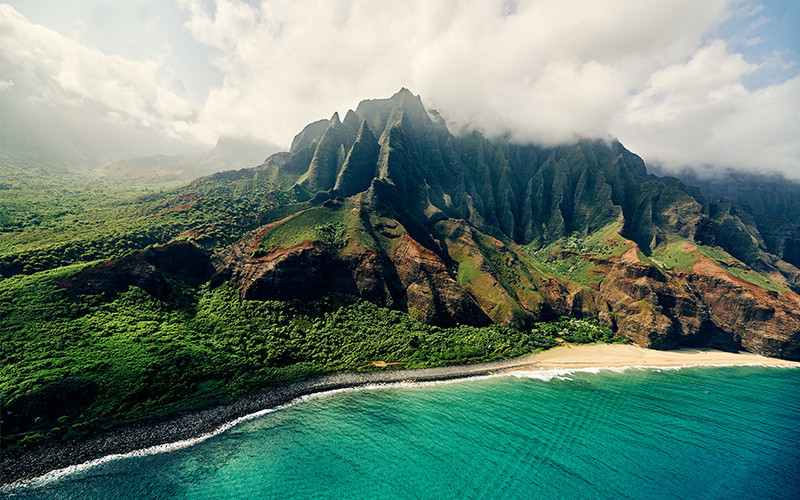 For explorers who hear the call of the wild, outdoor adventures abound on Kauai, the oldest in the chain of the four main Hawaiian Islands. Nicknamed the Garden Isle, its majestic mountain ranges, emerald valleys, historic caves, and dramatic coastlines are hallmarks of this evergreen island, an ideal destination for hikers, kayakers, and wildlife lovers.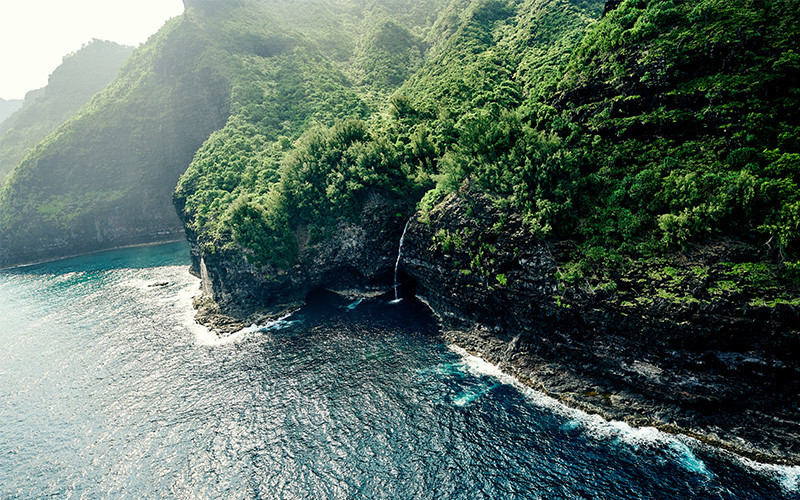 Kayak Through an Earthly Paradise
The jaw-dropping Napali Coast of Kauai, where millions of years of erosion have carved a cathedral-like spectacle of plunging cliffs and valleys, will make anyone's heart race. For adrenaline seekers, one of the most thrilling ways to venture along its 15 miles is by sea.
In the calm summer months, devote a full day to kayaking along the coastline. Marvel 4,000-foot peaks, explore sea caves, and look for wildlife like pods of naia (spinner dolphins), honu (green sea turtles), and Hawaiian monk seals.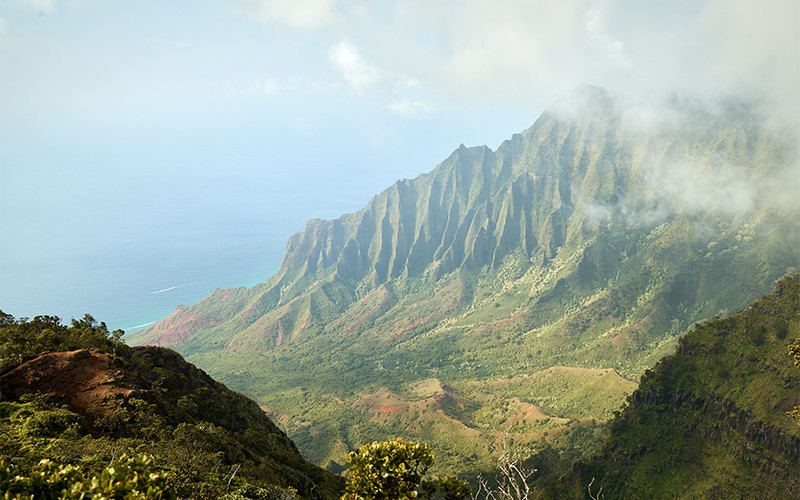 Kalalau Trekking
Hiking enthusiasts the world over train physically and mentally before taking on the Kalalau Trail (it's been closed recently but is set to reopen soon). Considered one of the island's most extreme but rewarding excursions, the 11-mile round-trip can take days to complete by foot.
The trail itself is a winding ribbon of a path that curls over five resplendent valleys through largely untouched topography. Its final destination is Kalalau Beach, an inviting white-sand area that serves as a campsite and resting spot for exhausted travelers. Permits are required for this journey and can be reserved online. Plan accordingly, as the $20 permits often sell out months in advance.
Soaring Views
Take a helicopter flight deep into the recesses of Kauai's north shore, where the island's concealed wonders materialize before your very eyes. The most recognizable of them is Manawaiopuna Falls, made famous in a certain adventure movie based around Jurassic-era creatures. A bird's-eye view will reveal that it's really just a single waterfall that drops in a series. Marvel at the divine caldera of Mount Waialeale, one of the wettest spots on Earth, with an average rainfall of 600 inches annually. Colloquially known as the Weeping Wall, it can only be observed by air. If you're a traveling photographer or just feeling especially brave, opt for a doors-off tour.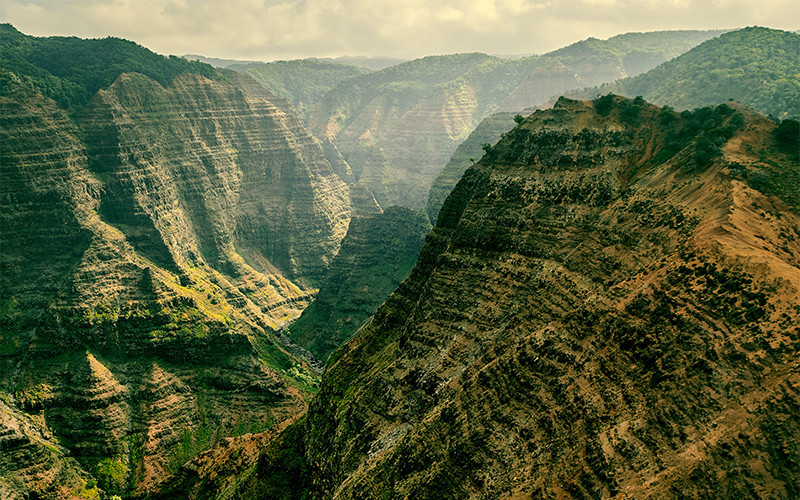 Waterfalls Await
Waimea Canyon State Park, which Mark Twain famously called the "Grand Canyon of the Pacific," is a glorious canvas of arresting reds and greens with a striking 800-foot waterfall at its center. There are plenty of outlooks for photo ops of the canyon, but the hiking routes are even more memorable.
Take the Canyon Trail, a moderate hike that eventually unites with the Waipo'o Falls. It leads to the top of the falls and is arguably the most scenic route of them all. For experienced hikers with a full half-day to burn, hit the Kukui Trail, a steep, narrow switchback that traverses 2,000 feet in elevation — it's the only pathway that leads you down to the base of the canyon, where a serene river invites you to take a dip.
Descend Into a Hidden Past
The largest limestone cave in Hawaii is found on this island's south shore. Known as Makauwahi Cave, it's part of the Mahaulepu Preserve, a vast 17-acre geological site where close to a hundred species of native plants flourish and large friendly tortoises graze the invasive grasses and weeds. Crawl into the limestone cave, which is the richest fossil site on the islands. You can also examine ancient bone artifacts fashioned by the early Polynesian settlers, as well as extinct plant and animal species that have been excavated from its sediment and are on display.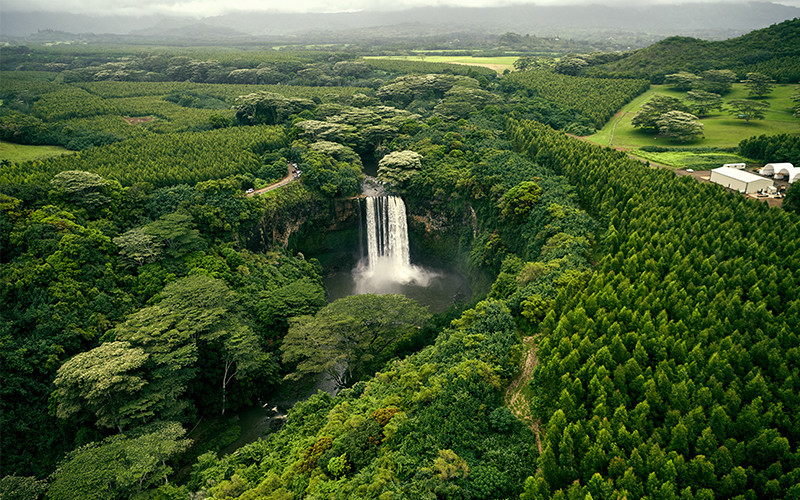 A Rush of Rivers
Water sources are abundant across Hawaii, but there are only a few navigable rivers and streams in the state. Kauai has them all, including the Wailua River, which is the only island waterway in the state that can be sailed upon by boats larger than a kayak. Hop on a watercraft — stand-up paddleboard, outrigger canoe, open-air — to explore this scenic river that leads back to a lush rainforest. If drifting leisurely is more your speed, slip into the old sugar plantation irrigation canal above Lihue for a mountain tubing through tunnels and flumes.
Check out our guides to Maui, Oahu, and the Island of Hawaii to figure out which of Southwest's latest routes is right for you. Or, click here to start planning your trip to Kauai today.