TRAVEL SAFE IN MONTANA – We are closely monitoring COVID-19 and the rapidly changing public health situation. To keep our residents and visitors safe, please review our safety protocols before traveling to or around Montana. You can view the protocols here.
Whether you crave the serenity of a clear mountain stream or the energy of a culture-rich town, it's easy to find an unforgettable solo destination in Montana. Try getaways based in areas such as Billings, Flathead Lake, Missoula, Great Falls and Bozeman to immerse yourself in experiences like a fly-fishing expedition, a tour of a world-class museum and culinary exploration.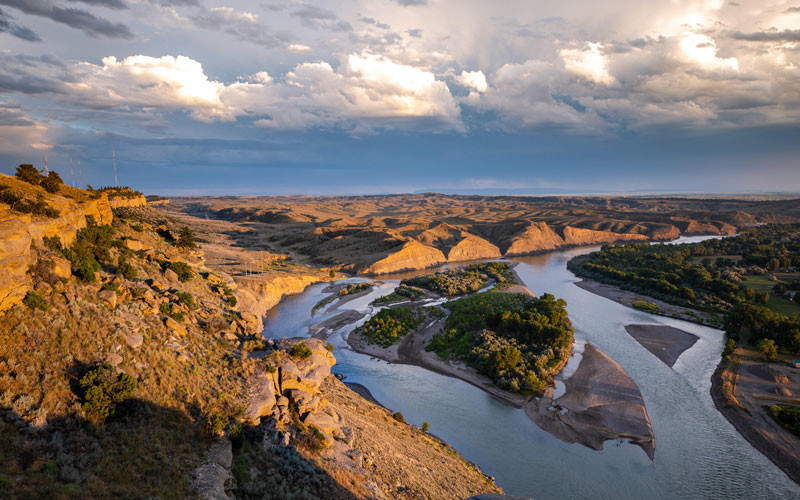 Four Dances Recreation Area. Photo: Andy Austin
BILLINGS: ECHOES OF HISTORY
Only a few American airports can dazzle your eyes through an aircraft window, and you'll find one in Billings. Perched high on the Rimrocks' river-carved cliffs, Billings Logan International Airport surprises first-time visitors with blazes of gold sandstone and broad vistas of the Yellowstone River Valley.
You can practically hike from the tarmac—the Rimrocks are graced with multiple parks and trails. You'll get great views from Four Dances Recreation Area. A journey through the Rims also leads to Pictograph Cave State Park, where faded pictographs hint at the stories of humans who inhabited Pictograph Cave and neighboring caves 2,000 years ago.
To get a feel for the area's more recent history, tour the 1903 Moss Mansion, a fabulous three-story home built for Preston Boyd Moss, a bank president and entrepreneur who helped develop Billings. Dive into history and culture as well at the Yellowstone County Museum and the Yellowstone Art Museum, which houses Western art including iconic photographs from the late 1800s.
At dinnertime, nab a table at the Last Chance Pub and Cider Mill to feast on fare like Montana Wagyu beef, smoked trout tacos and locally made hard cider in a lofty, brick-lined space.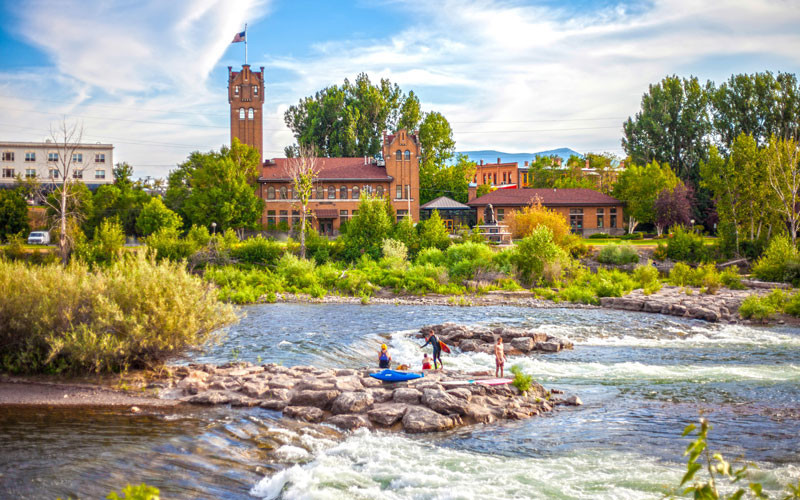 Clark Fork River, Missoula. Photo: Missoula CVB
MISSOULA: NATURE AND CULTURE
Western Montana's forward-thinking college town of Missoula is filled with bookstores, museums and global cuisine. While many come just for trout fishing—and outfitters like Front Street's Grizzly Hackle Fly Shop will gladly set you up with gear, guides and advice—the University of Montana sets the tone for a city that's also rich in arts and culture.
Book junkies will love indie bookstores like Fact & Fiction and The Book Exchange. The city's lively music scene includes the 15-member String Orchestra of the Rockies. Art-lovers will want to visit the contemporary American Indian art collection at the Missoula Art Museum.
Make time to enjoy Missoula's natural appeal, too. The Clark Fork River runs through the city's historic district, and the Riverfront Trail makes pleasant strolling. Head into Caras Park to see the enchanting Carousel for Missoula, carved by a local cabinetmaker with the help of volunteers.
Experience Missoula's thriving brewing and culinary scene at stops such as Big Sky Brewing Company Taproom, which serves a great huckleberry blonde ale, and The Pearl Café, where you can sample French-inspired fare served on white tablecloths.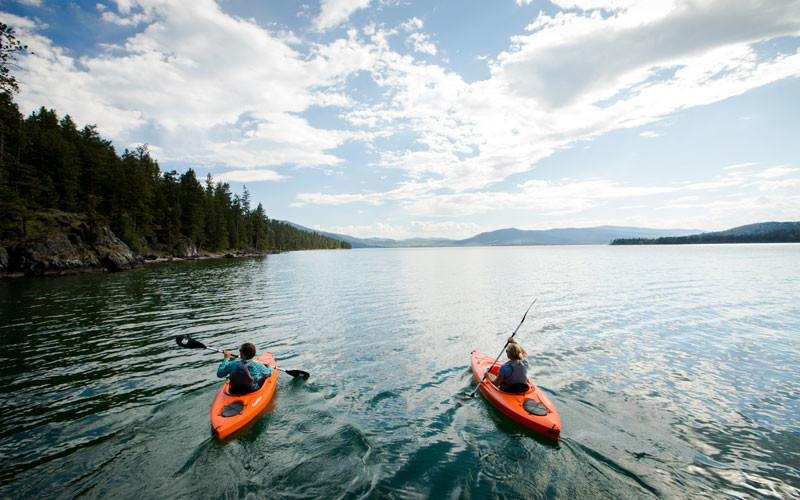 Kayaking Flathead Lake near Wild Horse Island. Photo: Noah Couser­
In Northwest Montana, Flathead Lake, the West's largest freshwater lake, boasts an astonishing 188 miles of shoreline. Start your exploration in artsy Bigfork, strategizing your trip over a cappuccino and eggs Benedict at the Pocketstone Café.
Start by choosing from a summer's worth of outdoor activities—kayaking, swimming, fishing, rafting, hiking—then add in fine dining, gallery hopping and boutique shopping. On land, work up an appetite by walking the Swan River Nature Trail and watching kayakers play in the river's "Wild Mile." Or visit any of the six state park units that make up the Flathead Lake State Park system. Wayfarers State Park, near Bigfork, is especially known for its sunset views.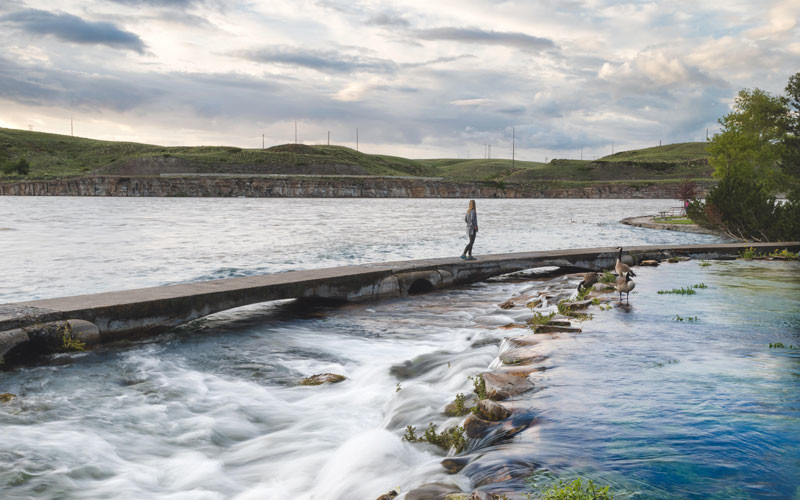 Giant Springs State Park. Photo: Visit Montana
Great Falls' most defining geographical feature is the mighty Missouri River. Start your visit at the Lewis and Clark National Historic Trail Interpretive Center, perched on a river bluff. The center's two-story diorama tells of explorers' arduous 18-mile-long portage up and over precipitous cliffs and waterfalls.
The Lewis and Clark expedition discovered another breathtaking water feature of Great Falls—one of the largest freshwater springs in the country. Less than a mile east from the interpretive center, check out their find at Giant Springs State Park, where gushing water emerges from an underground aquifer at a rate of 156 million gallons a day.
The C.M. Russell Museum downtown holds the world's largest collection of Russell's paintings, artifacts and bronze sculptures—bucking horses, buffalo hunts and tribes—plus the belongings and letters of "America's Cowboy Artist."
Fuel up at the Roadhouse Diner—with celebrity-grade diner chow, like Montana-grown beef or black bean burgers on scratch-made buns—before heading 15 miles west of the city to visit First Peoples Buffalo Jump State Park. Tour the fascinating interpretive center or take a guided hike to see ancient teepee rings, petroglyphs and pictographs and learn about how Native Americans used the site.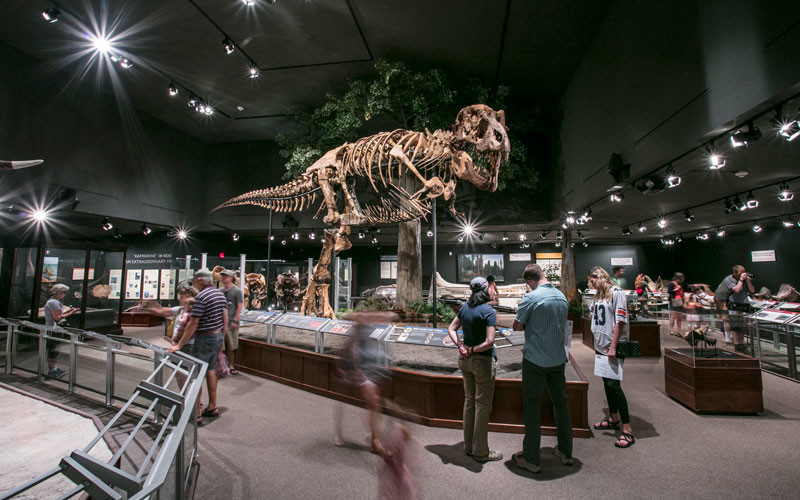 Museum of the Rockies. Photo: Ryan Donnell
BOZEMAN: ELEVATION WITH BENEFITS
Bozeman's postcard-perfect views of the Bridger, Madison and Gallatin ranges are true Montana, while downtown beats with an edgy pulse. Historic buildings house hip bars, beguiling art galleries and cutting-edge restaurants. The city's expanding population demands—and receives—a mountain-air lifestyle mixed with cosmopolitan perks.
Montana State University contributes to the city's energy. On the MSU campus, the Smithsonian affiliate Museum of the Rockies holds a world-famous trove of dinosaur bones, including 26-foot-long Big Al, one of the most complete Allosaurus skeletons ever found, as well as an outstanding collection of dinosaur eggs.
On Grand Avenue, the Emerson Center is the nexus of Bozeman's burgeoning art scene, housing nearly 30 art studios and galleries packed with made-in-Montana sculptures, pottery, paintings and glasswork.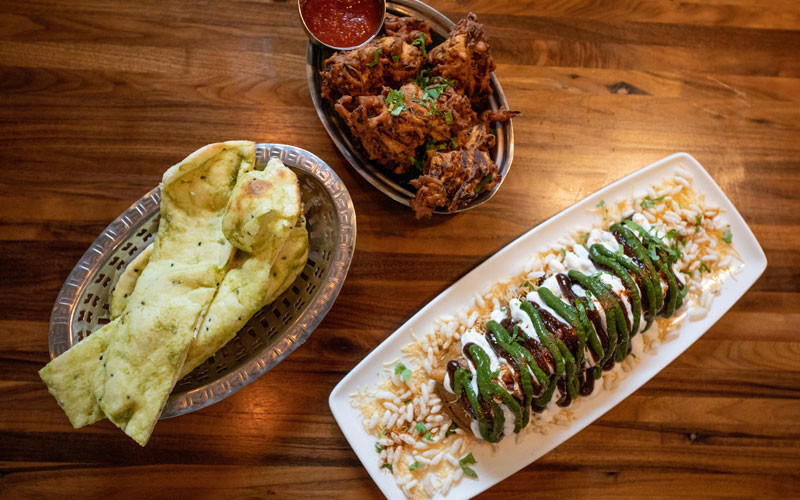 Eggplant Chaat at Saffron Table. Photo: Andy Austin
Nearby is Jam!, where the corned beef hash has legions of fans, but the real reason to put your name on the waiting list is the pancake flight. At dinnertime, nab a spot on Saffron Table's outdoor patio and sample Indian dishes with locally sourced ingredients.
About 10 miles south of Bozeman, Hyalite Canyon offers hiking and biking trails as well as fishing in Hyalite Reservoir. An hour south, Montana's largest ski resort, Big Sky Resort, delivers summer fun like mountain biking, ziplining and hiking in an area framed by 10,000-foot peaks.
Find more ways to fly solo at VISITMT.COM.