I Traded in My Favorite Black Luggage for This Stylish Customizable Alternative — Here's Why
By Stephanie Perry
ROAM luggage helped me bid farewell to my old suitcase (and we have an exclusive code to help you save $50 on your own set).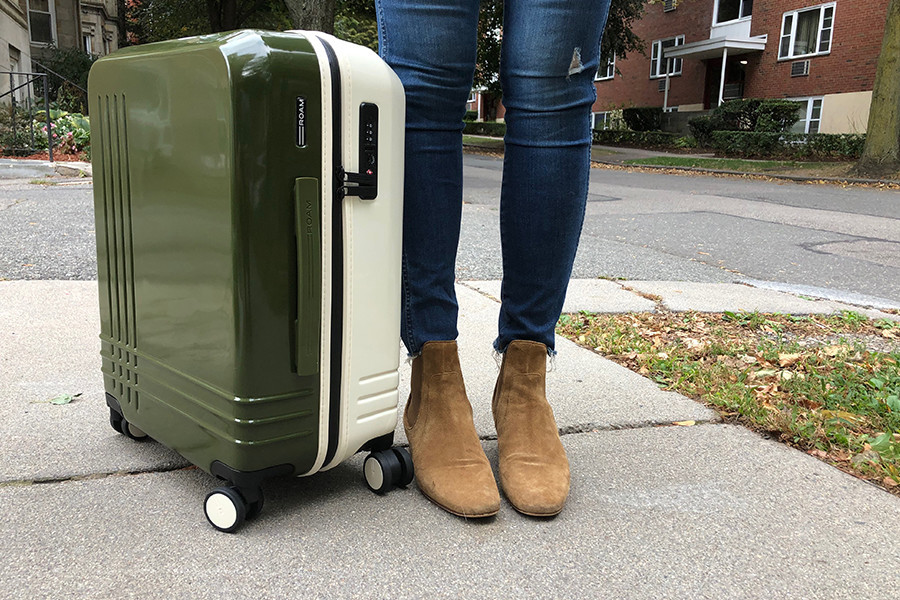 Four years ago I packed up my life into a suitcase and moved from Boston to Los Angeles on a whim. Said suitcase was an undiscerning shade of black, old and only recognizable from the paisley scarf tied to the handle — which as you may have guessed, fell off during my trip, causing me to spend far too much time in baggage claim searching for my belongings that looked just like all the other black bags. Despite clearly needing a better travel option, I never found one that felt quite worth the splurge — until I discovered ROAM luggage.
ROAM is the world's first fully color-customizable, premium luggage brand, meaning it goes beyond monogramming your bag with your initials and tying a scarf around the handle — although of course, you can still do both those things. From the wheels to the zippers, every portion of the high-quality, lightweight design can be personalized to fit your taste. Aside from the obvious benefits (stylistic expression, standing out in a sea of black luggage, etc.) ROAM luggage is also engineered differently. Its smooth, ultra-quiet glide wheels and four-height telescope handle help to minimize side-to-side wiggle in case you're perpetually late and rushing towards the gate like me. One of my favorite things about ROAM is their easy-to-use compression system that make travel more efficient by squeezing the air from your garments. I was amazed at how much more I could pack as a result. Best of all, these boards have pockets built-in to easily separate dirty clothes. For those of you not used to the "clamshell" configuration of hardshell luggage, this packing system alone will be enough to convince you that this is the absolute best way to travel. As for space? ROAM offers four unique luggage sizes: The Jaunt Carry-On, The Jaunt XL Carry-On, The Journey Check-In, and The Globetrotter Check-In. I opted for The Jaunt XL, a slightly larger carry-on with two extra inches of room.
Contrary to what my packing tactics might imply, I'm a minimalist at heart, so for my new luggage I chose a sleek, hunter green front shell and cream back shell, adding black zippers, a green handle, cream wheels, and my monogrammed initials etched on the back. Thanks to ROAM I was able to create a timeless, neutral aesthetic (similar to my old luggage) that still felt true to my taste but also felt far more practical, stylish and above all, durable. Thanks to its 100-day risk-free trail, I could trade this bag in at any point — but I don't see that happening as it's already shamelessly packed for this weekend's getaway. Plus, I'm headed to Italy this spring and excited to take this bag with me knowing I'll still have plenty of space for all my belongings and much more time to spend eating pasta instead of searching for my black luggage at baggage claim.
Scroll to shop all its pieces and be sure to use code 50TL to save $50 off your first purchase.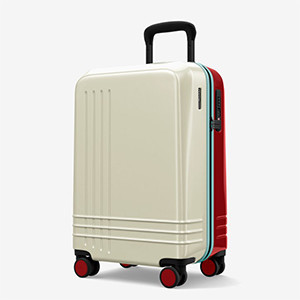 This carry-on roller suitcase is perfect for weekend getaways and quick work trips alike and is 22"h x 14"w x 9"d at just 6.6 lbs. With a water-repellent zipper and shells made from lightweight polycarbonate, its sturdy and supportive design will protect your belongings while allowing you to rush between terminals with ease.
To buy: roamluggage.com, $400 with code 50TL (originally $450)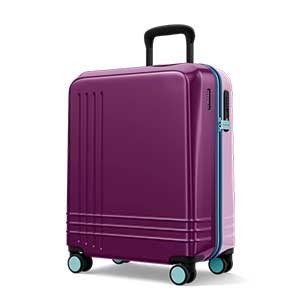 Overpackers, rejoice. The Jaunt XL is here to give you that extra bit of packing space you need, while still fitting nicely in the plane's overhead compartment with dimensions of 22"h x 15.75"w x 9"d and ultra lightweight at 7.1 lbs. So go ahead, pack an extra outfit, take home some extra souvenirs, or sporadically extend your trip, knowing you've packed all the essentials you need to make it another day or two.
To buy: roamluggage.com, $425 with code 50TL (originally $475)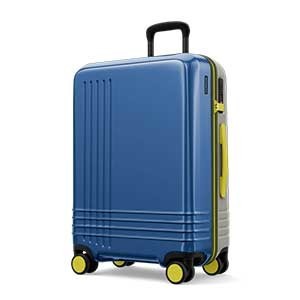 Heading out for a week-long adventure? The Journey is your new go-to for accommodating extra layers, additional footwear, and anything you may need for your trip. Plus, it won't tip the scales at 9.2 lbs and fits all you need with its dimensions of 25.5"h x 18"w x 10"d".
To buy: roamluggage.com, $445 with code 50TL (originally $495)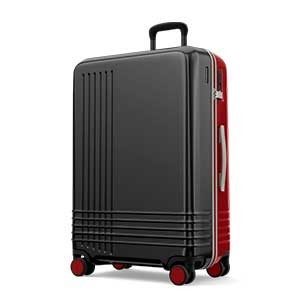 4
The Globetrotter Check-In
The name says it all — The Globetrotter is the perfect travel companion for, well, globetrotting. Spacious without ever feeling bulky, this design is made to accommodate long trips with ease. As with all ROAM luggage, it includes washable interior lining, as well as laundry and accessory pockets as part of the compression system, making this bag is ready for as many adventures as you are. This case comes in at 10.3 lbs and is 29.5"h x 20"w x 11"d.
To buy: roamluggage.com, $500 with code 50TL (originally $550)
Not sure which case to gift? ROAM's electronic gift cards allow those special people in your life to customize a case exactly to their liking. Gift cards are sent via email containing a code that can be applied at the end of the checkout process and are instantly redeemable at roamluggage.com.
---
This content is funded by ROAM and produced by our editorial team on their behalf.