How Loews Hotels' New Program Is Bringing Local Flavor to Travelers

+

We partnered with Loews Hotels to showcase how talented culinary artisans are innovating across America, and how anyone can find them in the comfort of their accommodations. Explore their offerings here.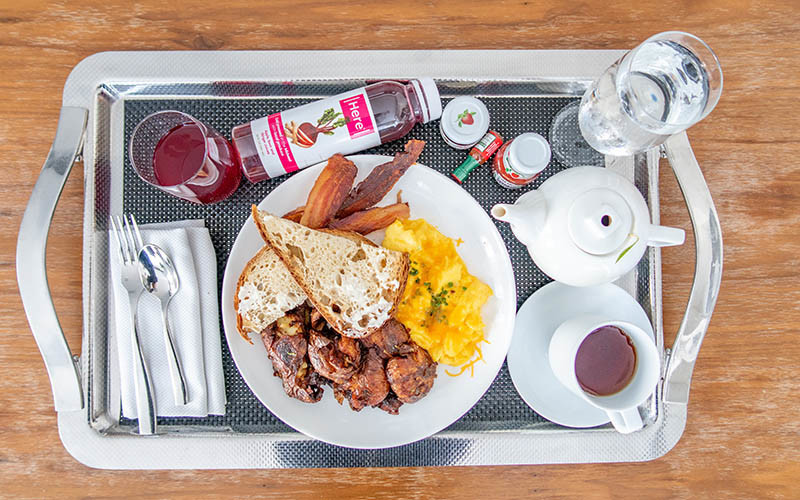 Whether you're on the road or need a staycation, a hotel can often be an oasis for weary travelers. But how often is a hotel actually a part of the fabric of the city it inhabits? Flavor by Loews Hotels, a new program launched this year, is setting out to change that. It brings culinary artisans from its cities into its hotels, meaning that guests can enjoy each location's hidden gems without having to make a trek outside the walls, and the artisans get to spread joy to people who normally wouldn't have experienced their expertise. It's all a part of an effort by Loews to broaden the possibilities of culinary immersion for travelers.
Loews invited five travel bloggers from five different cities to experience their hotels and introduced them to some of the best amenities (read: treats) they could have imagined, all thanks to vendors from their neighborhoods. Here's what they had to say, in their own words.
Chicago - Kit Graham
Loews Chicago Hotel balances the ease and convenience of a business hotel with the personal touches of a luxury hotel while putting you in the center of the city with views that stretch from the Chicago River to Lake Michigan. It was the perfect way for me to gain a new perspective on the city I love!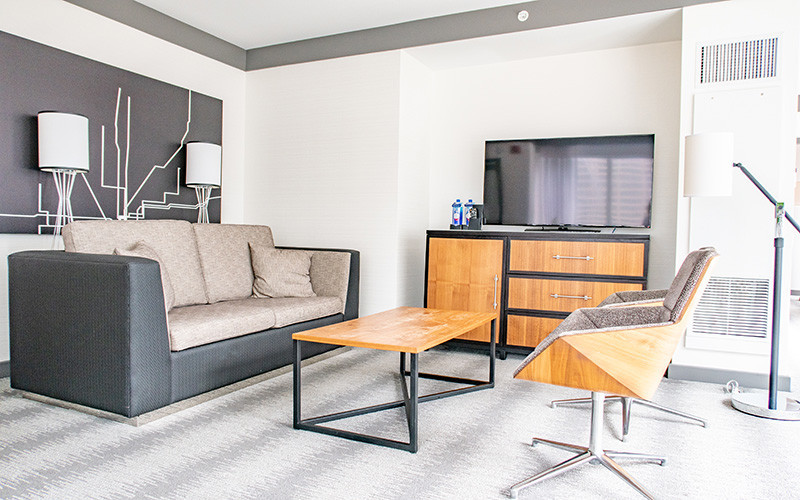 Even though you see Chicago's impressive skyline and the city buzzing around you, the rooms remain quiet and peaceful. The hotel also has a luxury spa, indoor pool, a lobby lounge with work spaces and a fireplace -- it's a stylish and welcoming home base for business travelers, and a perfect jumping off point for city explorers alike. Plus, it's pet-friendly, with special in-room dining options for pets that include Beef Tenderloin for dogs and Salmon Pâté for cats. Cheers for thinking of our four-legged friends.
The staff at Loews truly pampered me with its Flavor program, beginning with an indulgent spa treatment courtesy of Chicago Honey Co-op. Their honey mani-pedi was sweet (literally and figuratively)! The honey scrub is made with raw honey and sugar crystals to moisturize and exfoliate, and honey lotion is massaged into the skin before the treatment is completed with your choice of nail polish.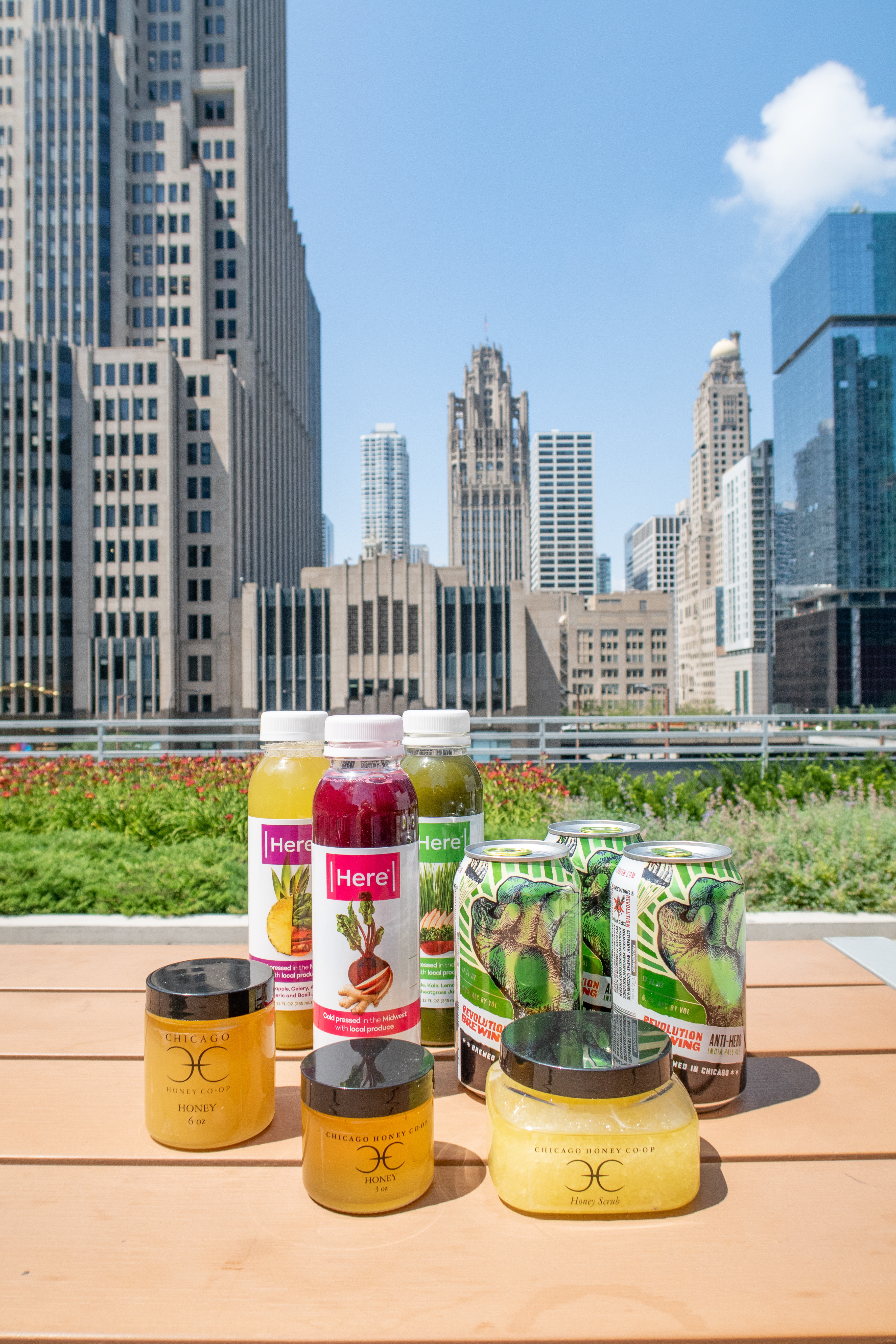 Next, I ascended to Streeterville Social, a sunny rooftop terrace on the third floor of the Loews Chicago Hotel, where I experienced a lively atmosphere and unparalleled views of the skyline. As part of Flavor, Streeterville Social has added three cocktails made with local ingredients to its menu. Gin 'n Juice is made with Here™ Pineapple, Celery, Apple, Turmeric, and Basil cold-pressed juice with Hendricks Gin. The Rosarita is a fun spin on a margarita made with Revolution Brewing Rosa Hibiscus Ale, lime, simple syrup, and tequila. My favorite, though, was the Bee's Knees, a lemonade made with Sipsmith Gin and Chicago Honey Co-op honey -- it is so smooth and refreshing!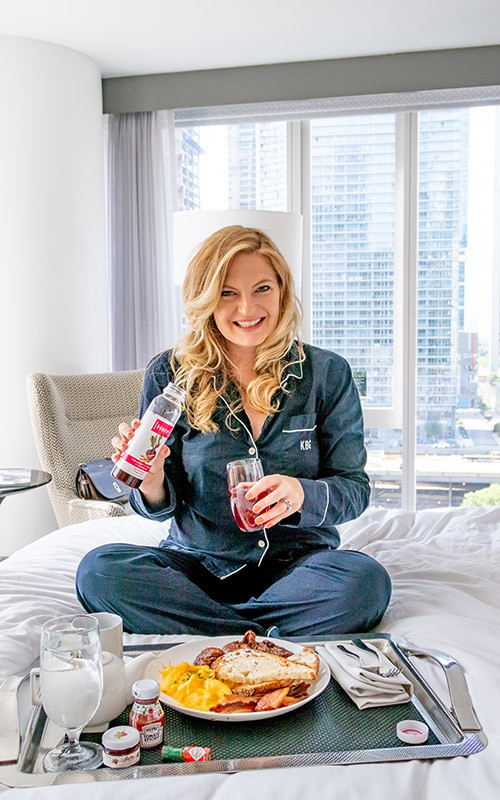 Lastly, I feasted on rustic American classics at the warm and lovely ETA Restaurant + Bar. I started with a pint of crisp Zephyr, a golden ale created just for Loews Chicago by Revolution Brewing, and then a lavish spread of rustic American cuisine like roasted chicken, mashed potatoes, macaroni and cheese, and brussels sprout salad. It is just the type of meal that you want after a day of exploring, and the Zephyr paired well with everything!
Overall, the Flavor by Loews Hotels program at Chicago Loews Hotel gives guests a unique introduction to Chicago that brings together local products and Loews hospitality. The morning after, room service offered me a wide range of breakfast options -- they have you covered if you want something sweet, something healthy, or the classic eggs and bacon. You can also order Here™ cold-press juices with your breakfast, and there is even an option to turn the juice into a boozy brunch cocktail! It was the ideal end to my stay and helped me see Chicago in a whole new light.
Los Angeles - Courtney Blacher
Although I live in Los Angeles, it's not too often that I get to explore my city, and there's a reason for that -- my job involves traveling and trying new things, so I'm always on the road with my daughter, Reese. But it turns out that one of the best vacation spots I could have explored was one where I didn't have to travel at all. Loews Hollywood Hotel gave me that opportunity, and it honestly felt like the celebrity treatment.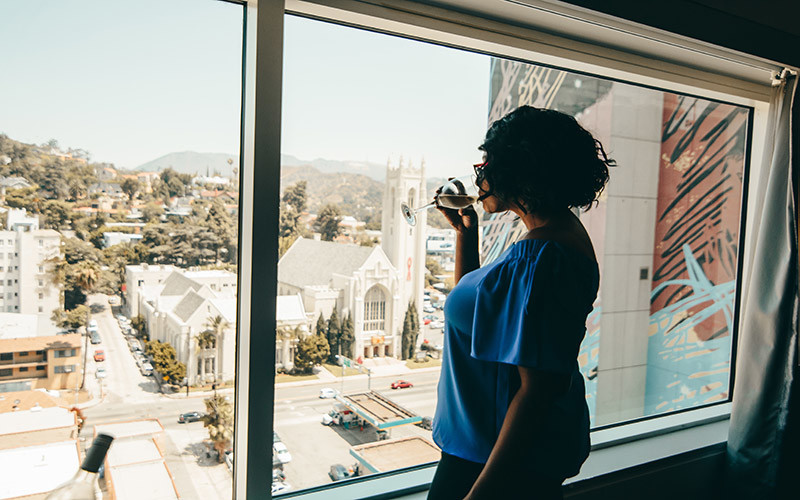 If you're a movie buff (like me), then you might already know about the hotel's connection to the famed Dolby Theater, which hosts the Oscars every year. Well, thanks to the hotel's super staff, I got a special behind-the-scenes tour, including a chance to view a real Oscar, visit the Oscars' VIP bar area, and even take the stage to see what it feels like from the stars' perspective as they walk across that stage to collect their award. Truly an experience lovers of cinema can't afford to miss!
After hanging by the pool and snooping around the Hollywood Walk of Fame, I chatted with Rachelle, a Loews team member, who told me all about how Loews is connecting with members of the community to bring unique local food experiences to guests as part of their Flavor program. The Flavor partners are a special group of artisans from each community who are hand-selected by Loews to bring their culinary expertise to the guests -- this lets them get a taste of the city without needing to leave the hotel.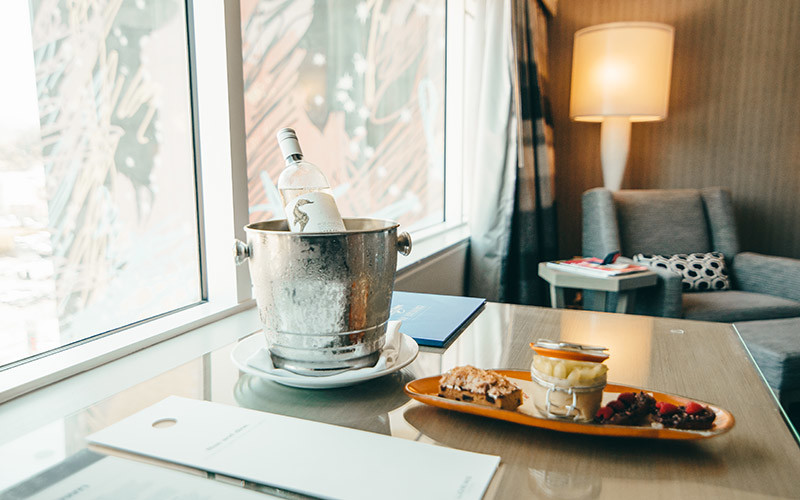 I started my Flavor tasting experience with ChocoVivo, a Culver City-based chocolatier crafting amazing chocolate the old-fashioned way: by stone-grinding it. They presented me with the most delicious chocolate cocktail called "Not Your Mother's Milkshake," and this was for sure NOT my mother's milkshake -- it was packed full of the creamiest chocolate ever... and even a hint of Myers Rum and Bailey's (I discovered the hidden kick after a few sips).
Now, as a HUGE cookie fan and bakery owner, I'm always excited to see what other bakers are doing in the cookie arena. So imagine how excited I was to discover one of their Flavor partners was none other than Duidough Cookie Lab, run by David Vanlochem, a tech-guy-turned-cookie-entrepreneur. My favorite cookie offerings were Brown Butter (which had a rich, buttery flavor), S'mores (which was packed with marshmallow and topped with graham crackers for added crunch), and Lemon Strawberry Pistachio (which was brimming with pistachios and topped with lemon zest for extra zing).
Last on my agenda was a wine sampling from Flavor partner Conway Family Wines (a sibling-owned business), which makes a wine exclusively for Loews Hollywood. The light and balanced Deep Sea Sauvignon Blanc, made from grapes grown in the Conway Family's Santa Barbara vineyards, made me (and my palate!) very happy. By the end of the night, I was beyond full and excited, but I kept thinking back to that glass of Deep Sea Sauvignon Blanc I had earlier and decided to order a glass to unwind in my room while reading a good book.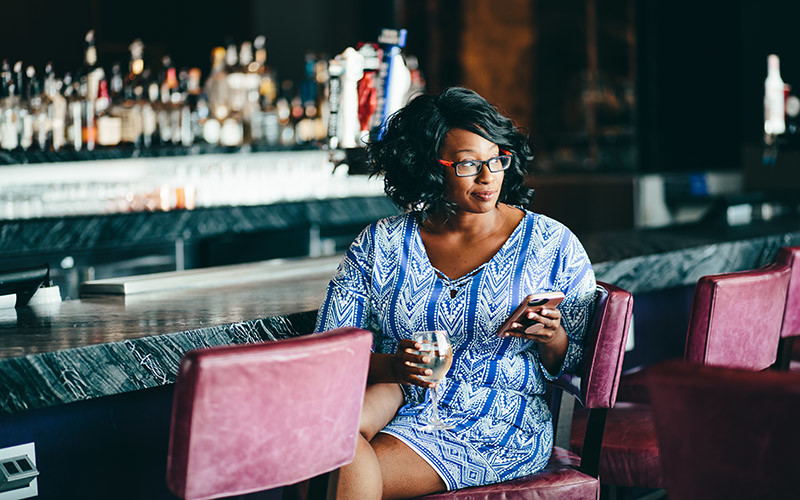 Overall, my experience was unforgettable, and I owe it all to the Loews Hollywood Hotel. Their magnificent accommodations were everything I expected and more, and needless to say, this busy momma thinks she's found her secret staycation hideaway… at least until Reese finds out and wants to tag along!
Miami - Tabitha Blue
When I think of Miami, my mind goes back to that 1998 Will Smith song of the same name: "Party in the city where the heat is on. All night on the beach till the break of dawn." While I'm completely showing my age with the song reference, let's break it down. Can you think of one person who doesn't think heat and party when someone mentions Miami? Typically, I don't pair those words with family travel, but as a mother traveling with my clan, Loews made it easy for me and my wee ones to experience the fashionable streets of Miami without needing to leave the hotel, thanks to its Flavor program. Can you think of anything better than having the city brought to you? I didn't think so.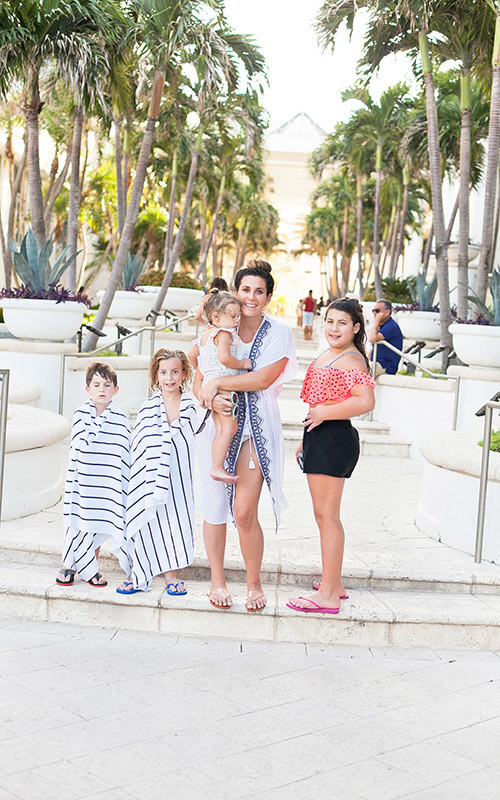 Everything we could want or need on a vacation was just a few steps away -- we just came, stayed, ate, played and enjoyed Miami's best, all from the comfort of our hotel. From the truly friendly, perpetually smiling staff to the special amenities geared for both adults and kids alike, it was a destination no one in my large six-pack of a family wanted to leave. The rooms were outfitted with some of the most comfortable beds we've experienced as travelers, the surf-themed SOAK Kids Club was a huge hit with my boys, and we got to participate in a kids cooking class at the wonderful Bar Collins -- my kids love the kitchen, and adding a cooking experience to our staycation was such a fun feature.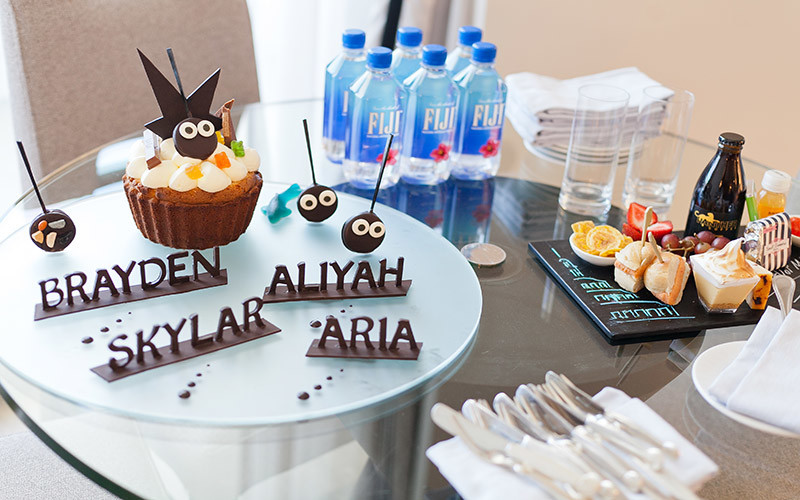 As we explored more of the property, we found local Flavor offerings at every turn; if I could just stay and camp out at the hotel's Preston's Market for every meal, I think I would. There, you'll find a wall of breads and pastries prepared by Miami's famous Zak the Baker. Be sure to order the avocado toast -- their most popular breakfast item for good reason! Zak's whole wheat toast with smashed avocado, bacon, poached eggs and goat cheese… it has my mouth watering even at the memory. It also doesn't hurt that you can add a drizzle of fresh, Miami-produced honey from Bee My Honey onto literally anything you get at Preston's -- it's like the proverbial icing on top of an already super-indulgent cake! Preston's also contains a buffet, a cheese & charcuterie area, and even a prepared-to-order egg station, to the exclusive kid's area full of all things colorful and sticky-sweet -- they've got every taste and flavor covered.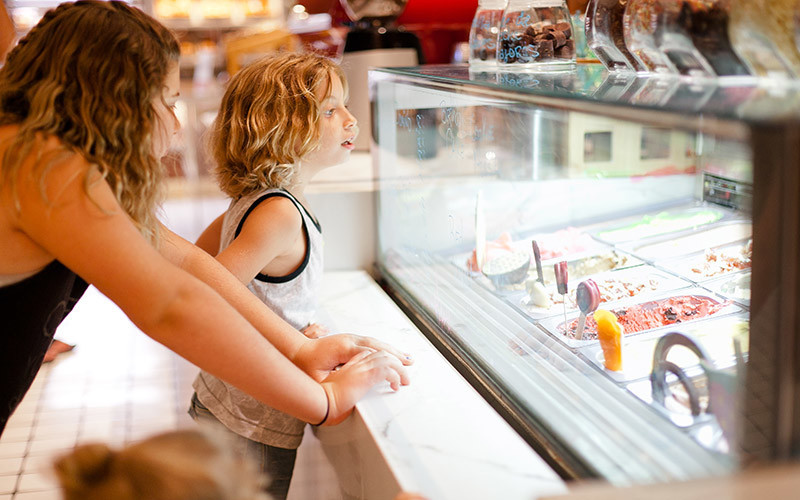 Between the Mommy & Me Manicures at Exhale Spa with my daughter, the poolside lounging in our SOAK Cabana, and the family-style dinner at Bar Collins (including rum cocktails from local mixologist Julio Cabrera for me), my entire crew was super tuckered out. The aforementioned comfortable beds cradled us all to sleep, and in the morning, we got to experience something any family can rarely do worry-free: a family photo session. On-site photographer Taylor of JPEGS partnered up with Loews to offer guests memories that will last long past the pile of laundry or the last bit of sand washed out of the swimsuits. With a background in photography, I know how much work it can be to get all the kids smiling or even just looking at the camera, but Taylor was a natural.
What better way is there to commemorate a great stay, and all the wonderful Flavor amenities Loews offered to us? Between Zak the Baker, Bee My Honey, and the wonderful libations at Bar Collins, I've now got an even better snapshot of this city, plus more local businesses I know to trust, thanks to Loews' Flavor program.
Coronado Bay - Katie Dillon
While I love San Diego (I live in La Jolla, not too far away), I often use it as a base of operations -- as a travel blogger, a lot of my time is spent around the world, staying at resorts and hotels in exotic locales. But when the opportunity to stay at Loews Coronado Bay became available to me, I knew it was a way for me to enjoy the same wonderful accommodations and amenities I normally get in my travels, in staycation form. And I was right!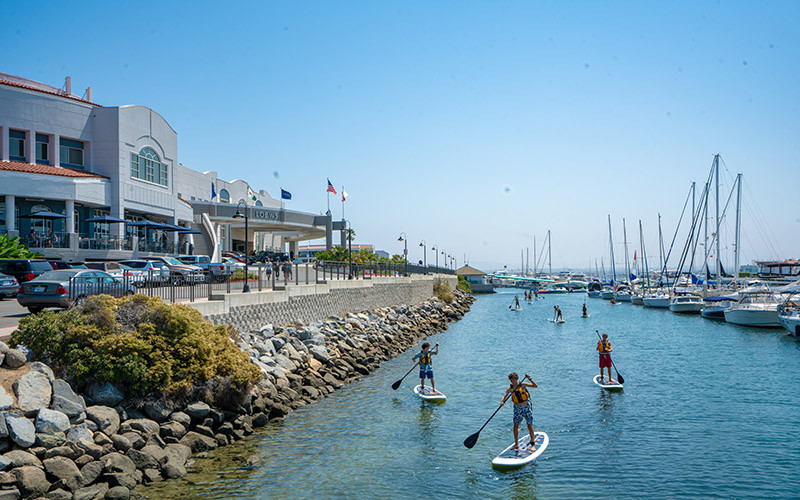 The lovely staff at Loews Coronado Bay started my local expedition off by introducing me to the hotel's Flavor program -- and Coronado Bay has a ton of great offerings for people looking to get a deeper sense of San Diego. Immediately, I was whisked off to a cocktail demo courtesy of their Director of Food and Beverage, Eric Jenkins. He showed how to make a truly life-changing cocktail using Summer Citrus Vodka from You & Yours Distilling Co., which is led by San Diego's first female distiller, Laura Johnson. It was the perfect way to mellow out before the rest of my journey through San Diego's culinary offerings!
In Crown Landing, Loews Coronado Bay's cool and casual waterfront eatery, I was treated to a gourmet feast from Chef de Cuisine Anthony Lupian. The most intriguing part of the experience -- other than the delicious food -- was their partnership with Catalina Offshore, who supplies only the freshest seafood to the restaurant. I discovered that Catalina Offshore has been one of San Diego's most trusted fishmongers for more than 40 years, and I was given a chance to sample their divine sea bass with fresh vegetables. It was a gourmet meal on a par with any luxury dining experience I've had in my travels, elevated by the fact that I knew exactly where my sea bass had come from, when it was caught, and even whom had caught it.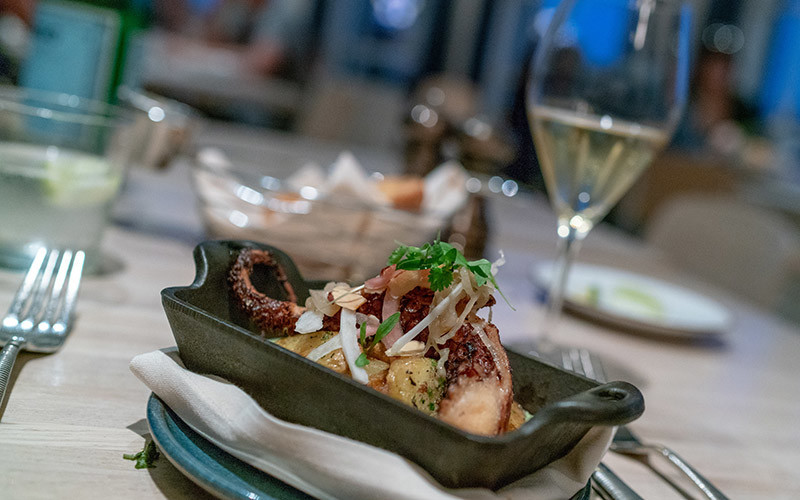 Finally, I ended my night by retiring to my room… only to find out that there were even more Flavor amenities available to me there! Sweet Cheeks Baking Co., which won Cupcake Wars for their delicious sweets, is the official bakery partner of the hotel, and that meant tasting incredible cupcakes like Blackout Chocolate, Sicilian Pistachio, and Lemony SO CAL Citrus from the comfort of my lavish bed. Anyone who longs for a midnight snack here will have their world rocked.
As I woke up for beach yoga the next morning, I couldn't help but reflect on my experience with a renewed sense of pride in my city, respect for its artisans, and a burning desire to book another staycation immediately.
Phillip Fryman - Nashville
Even though I'm a research biologist, my heart belongs to food. Living in Nashville presents me with tons of amazing options on a daily basis, and sometimes it can be difficult to keep up with the city's growing culinary scene -- there's so much great food happening here! That's why I knew a stay at Loews Vanderbilt could help me learn more about all the inspirational recipes that are being honed every day in my city. And if I got a comfortable stay out of it too, then that's all the better.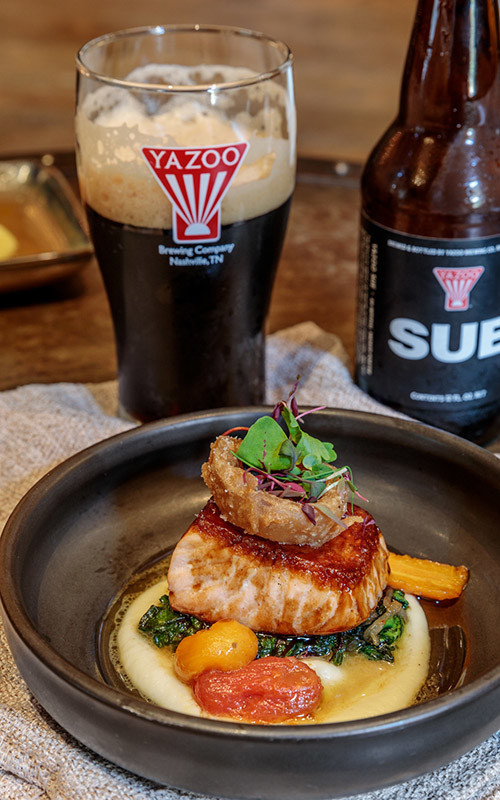 I started my Loews experience off with beer from Yazoo Brewing Company at Mason Bar. Yazoo started off as a single dude (Linus Hall) and a home-brewing kit, and has since expanded to kegs across the city. I enjoyed a flight of their offerings, as well as dishes that incorporated different Yazoo beers, prepared expertly by Chef Gavin -- the ceviche tacos with Hop Perfect, salmon made with smoky porter Yazoo Sue, and pork belly braised in Yazoo Sly Rye were all standouts.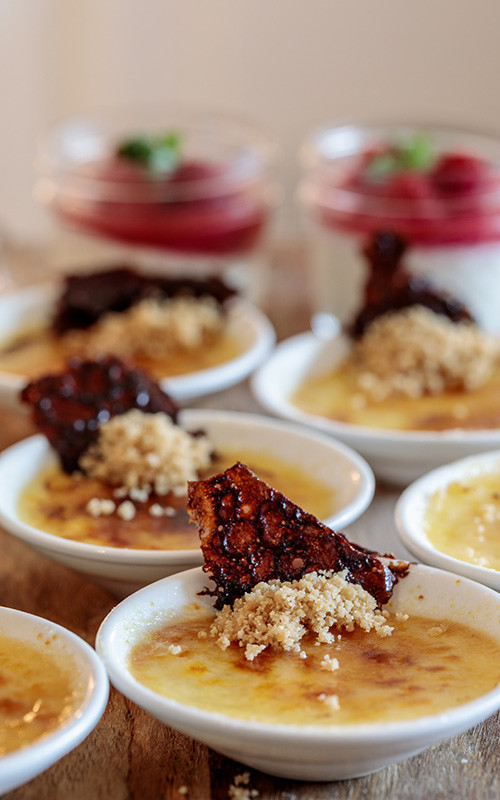 Next up, I was ushered to the Club Lounge for a whiskey tasting courtesy of Flavor partner Pennington Distillery. They're the makers of Davidson Reserve Rye, Pickers Vodka, and Pennington Peach Apricot Rye (among others), and I got to essentially tour their distillery by sampling their wares in the form of delicious cocktails like Elderflower + Strawberry Lavender, made with Pickers Vodka, or straight-up, which is how Davidson Reserve Rye truly shines.
Before hitting the hay, I stopped over at the bar for more Pennington's whisky, some music, and treats like fried squash blossoms. I'm not immune to this hotel's charms!
The following morning, Loews really stepped it up with coffee service at their POD Market. The official coffee partner of Loews Vanderbilt is Frothy Monkey, and they showcased a range of coffees that ran the gamut from subtle to bold, lattes to espresso, followed by breakfast from Frothy Monkey Bakery (yeah, they have a bakery, too!) that included incredible Danishes, cakes, and cinnamon buns the size of a dinner plate. I did not go hungry.
All in all, I gained a ton of inspiration from my stay at Loews Vanderbilt. Next time I feel like I want to really experience comfort and craftsmanship, I know exactly where to go.