At Palmetto Bluff, Living Well Is All About Sincere Interactions, Close Contact with Nature, and Self-Discovery
Explore wide-open spaces and experience the magic of the Lowcountry's best-kept secret: Palmetto Bluff, South Carolina.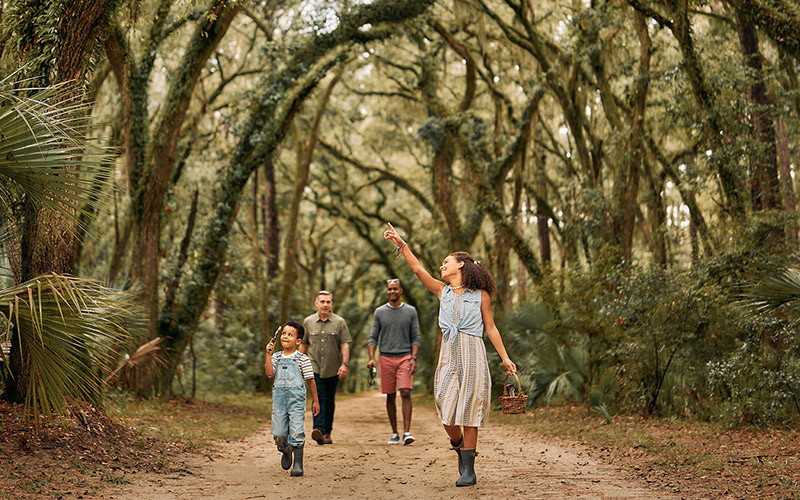 Located in the heart of the South Carolina Lowcountry, between Charleston and Savannah, Palmetto Bluff is a lush and vibrant community filled with rich history, stunning natural beauty, and Lowcountry charm. Exquisitely designed homes and a luxury hotel and spa sit on 20,000 acres of magnificent maritime forest with ancient live oak trees, Spanish moss, and longleaf pines. Villages offer a slower pace of life with plenty of room for exploration. Activities abound here: Paddle a kayak to dinner, gather with neighbors over cocktails by a firepit, and watch the kids playing outdoors until dark. You can participate in a class with a Conservancy naturalist, meet a local artist, go fishing, and play golf and tennis. You can listen to the tides while relaxing on the porch. Smell the sweet coastal air. Watch a watercolor sunset.
Palmetto Bluff is an ideal place to live and visit, and these experiences characteristic of this beautiful destination make that clear.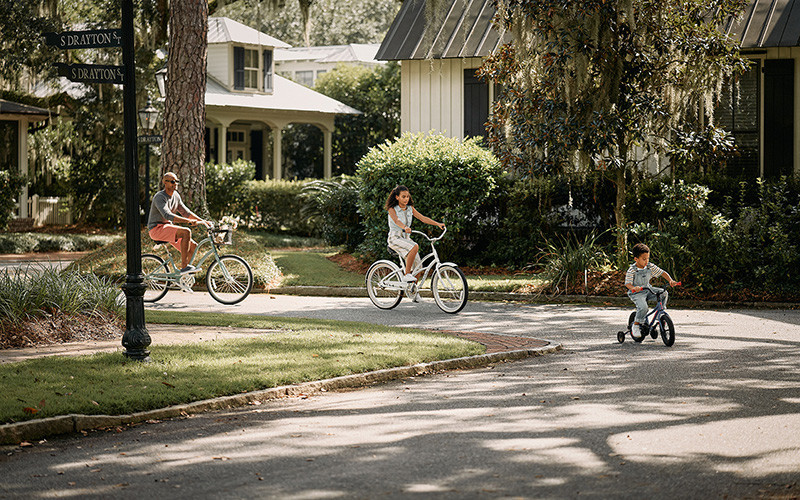 Explore Miles and Miles of Trails by Foot, Golf Cart, or Bike
Get the lay of the land by exploring Palmetto Bluff's two town centers: the bustling Wilson Village to the north and the more relaxed Moreland Village in the south. Palmetto Bluff's expansive trails connect the villages to residential neighborhoods and outdoor spaces. All you need to do is hop on a golf cart or bike, or if you prefer, simply walk along the pedestrian-friendly paths.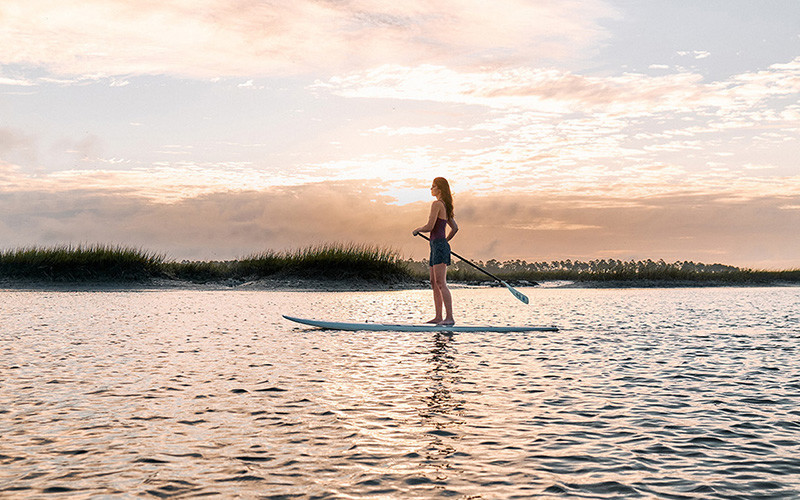 Paddleboard to the May River Sandbar
For an unforgettable experience, venture by paddleboard to one of the locals' best-kept secrets, the May River Sandbar. The island stands in the middle of the May River at low tide and is only accessible by water. Once on the sandbar, expect nothing more than a unique chance to be one with nature.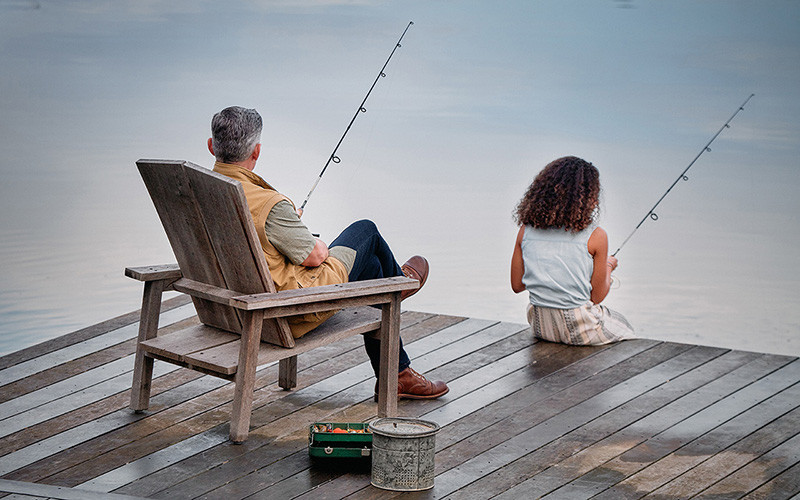 Cast a Line for Bluegill and Bass
Surrounded by 32 miles of waterway, Palmetto Bluff offers ideal fishing. Grab a picnic and charter a private fishing boat on the May River, exploring its salt marsh and unique biodiversity. Lower the line for saltwater tarpon, cobia, and redfish, or head to one of the many ponds and lakes to reel in bass, bluegill, and bream. The exceptional salt and freshwater fisheries around Palmetto Bluff offer a wide variety of game fish for everyone from beginners to experienced anglers.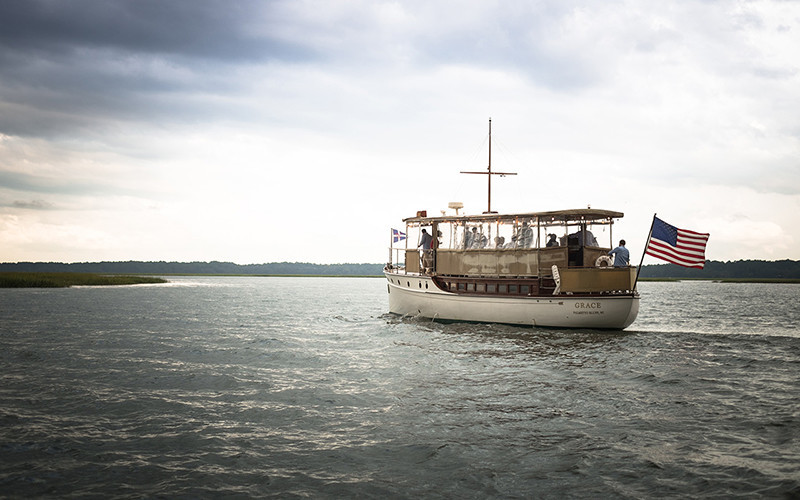 Drink Mimosas While Cruising Aboard Grace, the Restored 60-Foot Antique Motor Yacht
There's no better feeling on a warm South Carolina afternoon than savoring a chilled mimosa while cruising along the river. Grace, a 60-foot antique motor yacht with a colorful past, is one of the five known operational pre-World War I vessels left in the United States. This 1913 yacht was completely restored in 2015 and is available for tours and private charters.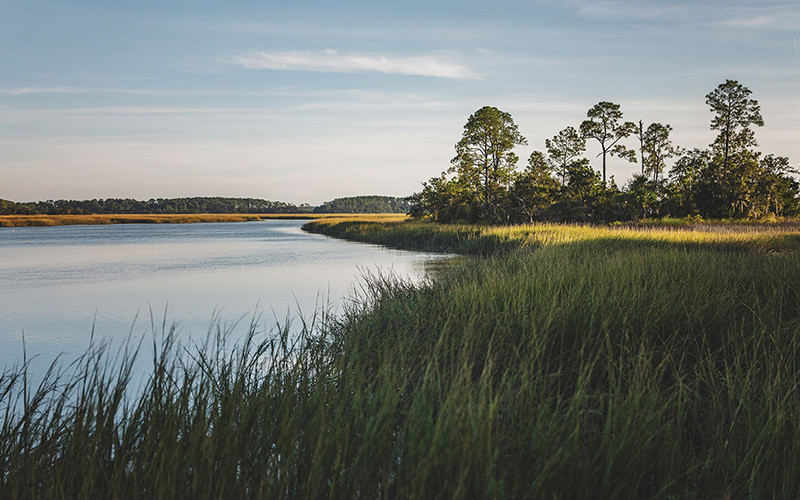 Watch Dolphins Play in Their Natural Habitats with an Experienced Interpretive Naturalist
One of the best ways to discover the hidden creeks and undeveloped islands around Palmetto Bluff is to take a guided interpretive tour. U.S. Coast Guard-licensed captains and naturalist guides offer families an opportunity to learn about the rich history and ecology of the area — what's better than learning while you create lasting memories?
Make sure to have your camera ready to get a shot of playful bottlenose dolphins as they gracefully swim below the water's surface with agility and speed. Beaufort County, South Carolina, is home to hundreds of Atlantic bottlenose dolphins, and it's one of the rare spots in the world to watch a unique behavior called "dolphin strand feeding," where they launch themselves out of the water to eat.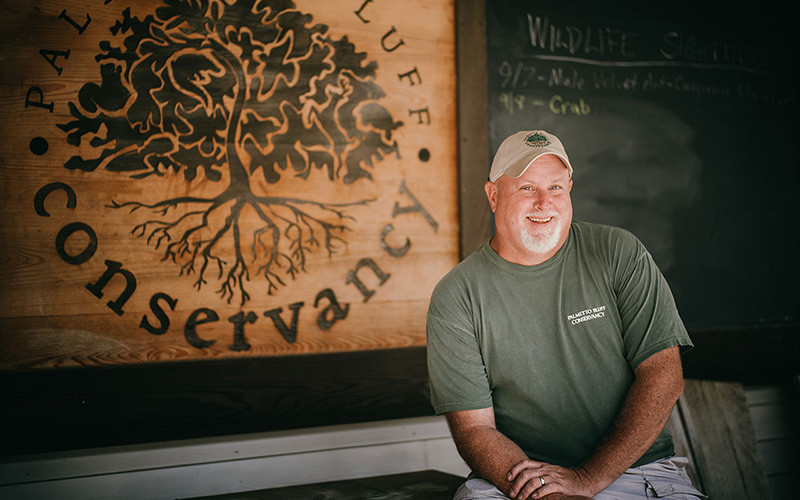 Participate in a Conservancy Event, Immersing Yourself in Important Environmental Topics
An integral part of the community, the Palmetto Bluff Conservancy is committed to protecting its 20,000 acres of maritime forests and winding tidal creeks, delicately balancing comfortable living with conscientious natural stewardship. Residents and guests at Palmetto Bluff enjoy a sense of ownership as they participate in research, informal discussions, and formal presentations.
The Conservancy hosts more than 300 events a year to educate curious adults and children on how to appreciate and protect their environment. During your stay, join the Conservancy team for a series of lectures and luncheons to gain information on how to help the Palmetto Bluff community as well as the global environment. First Friday Lectures, brown-bag lunches, Nature at Noon programs, and weekend excursions are held each week. Understand state and federal policies on green energy, dive deeper into native wildlife and local birdlife with knowledgeable experts, and get an introduction to archaeology with Palmetto Bluff's on-site archaeologist, Dr. Mary Socci.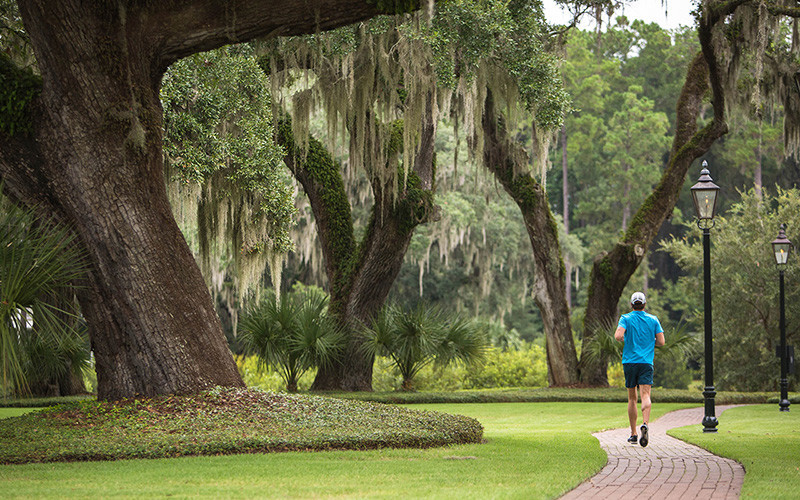 Dust Off Your Running Shoes and Participate in One of Palmetto Bluff's Endurance Races
If you seek a healthy mind, body, and spirit, sign up for the annual Palmetto Bluff Buffalo Run. Proceeds from the 10K, 30K, and 50K Ultra and Relay races benefit the nonprofit Palmetto Bluff Conservancy. Meander through the maritime forest and run a course shaded by giant oaks. Later, join the other participants for an after-party with live music, free food, and craft beer. The endurance races are a great way to enjoy one of the healthiest communities in the South, while giving back to a great cause.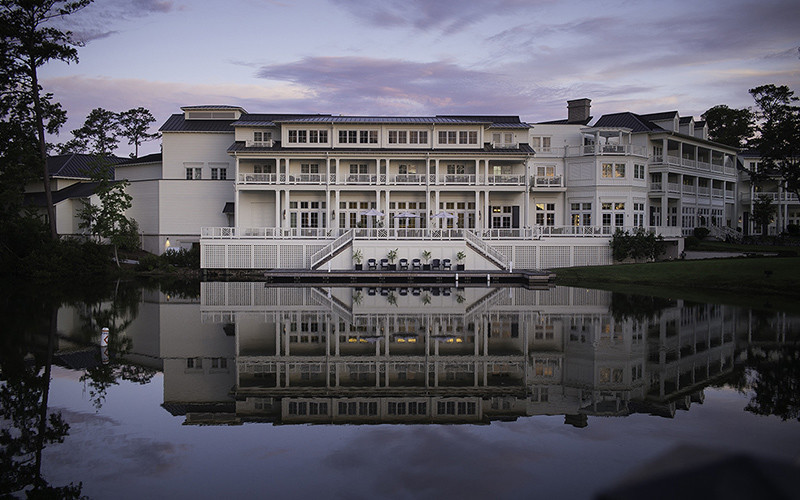 Rejuvenate at Spa Montage
The elegant resort, Montage Palmetto Bluff, has 200 carefully appointed cottages, suites, and rooms, as well as a luxurious spa to support the mind-body-soul experience. Spa Montage features 13 treatment rooms, along with his-and-hers heated whirlpools, cold-plunge pools, eucalyptus steam rooms, and red cedar saunas.
Inspired by the coast and surrounding natural elements, Spa Montage presents a wellness experience that will help you reconnect with your spirit and become more grounded.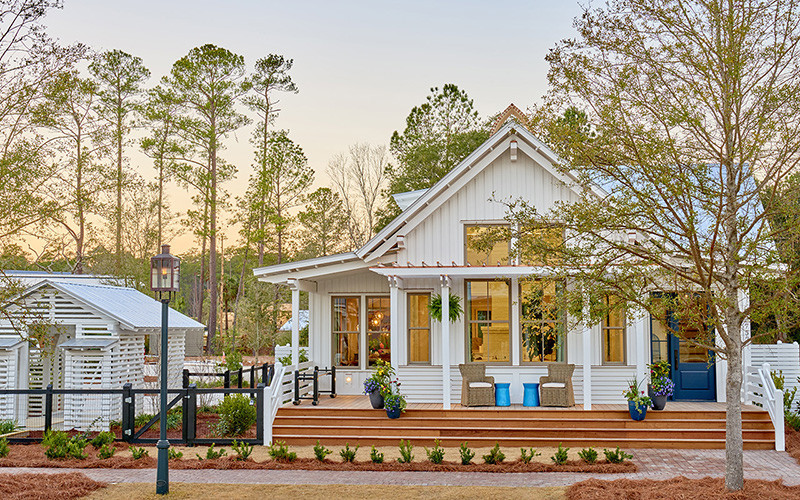 Stop by the Artist Cottage to Meet One of the Monthly Artisans
Palmetto Bluff's Artist in Residence program celebrates regional artisans from around the South, fostering creativity and education and providing opportunities for more intimate interactions.Throughout the year, you can meet and take lessons with notable Southern chefs, mixologists, authors, lecturers, musicians, and artists to hone a new craft or polish an existing skill.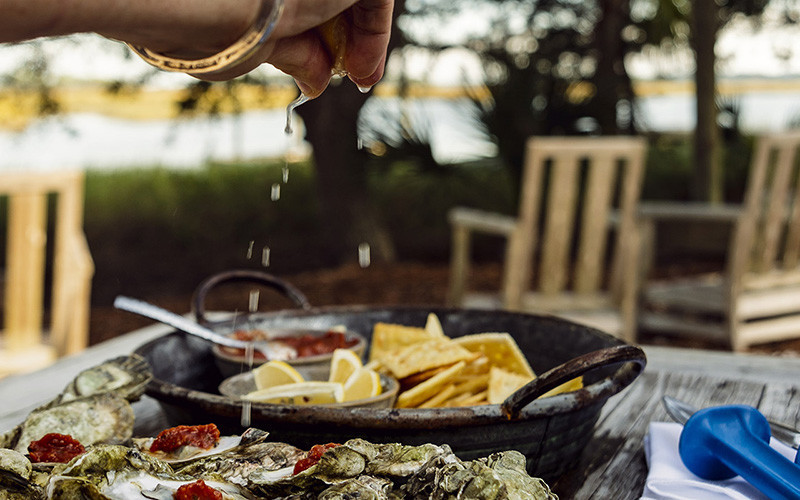 Participate in Long-Standing Traditions with Neighbors
The residents at Palmetto Bluff believe in crafting the ultimate community atmosphere, inclusive of everyone. Friendly neighbors don't just wave from their front porches; they step out and connect over a glass of sweet tea. More formal long-standing traditions are practiced regularly; fresh Lowcountry boils and oyster roasts are often on the schedule, and the Culinary Heirlooms program allows you to taste local dishes specially prepared each day by fantastic chefs. After dinner, neighbors often gather around a firepit, treating themselves to s'mores with homemade mint, caramel, and chocolate-flavored marshmallows. It's no small wonder that visitors to Palmetto Bluff frequently return year after year to strengthen old friendships and create new ones — and why many simply decide to stay.
Palmetto Bluff is the largest remaining waterfront property on the East Coast and is inviting travelers to immerse themselves in the joys of everyday living in a modern Lowcountry community. To learn more or to book your stay, visit palmettobluff.com.