The Best of Hilton Head Island by Land, Sea, and Air, According to a Travel + Leisure Editor

+

+

Travel + Leisure editor Elizabeth Rhodes shows you how to experience the island by land, sea, and air. We partnered with Hilton Head Island and the Savannah/Hilton Head International Airport (SAV) to bring this story to life.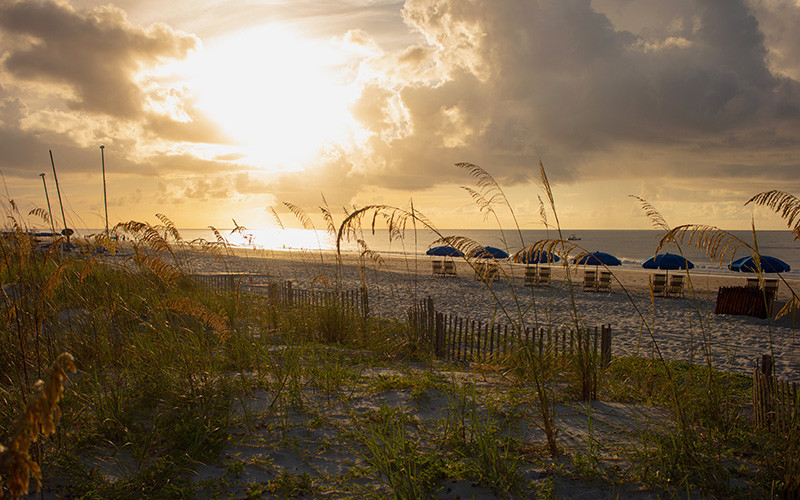 Growing up in South Carolina, I visited Hilton Head Island every year for our family vacations. I spent my days building sandcastles on the beach and exploring the island by bike. Whenever I visit Hilton Head Island now, I fall in love with its wide, pristine beaches, year-round sunshine, and delicious local seafood all over again. If you've never been here before, it's high time you fell in love with it, too. If you're a repeat visitor, then you already know: There's always something more to be discovered.
With wide-open spaces, plentiful outdoor activities (including world-class golf and boating), and easy access via the nearby Savannah/Hilton Head International Airport (SAV), this island is ready to welcome you on your next relaxing getaway. By land, sea, and air, discover how Hilton Head Island continues to reveal itself in new ways, weaving its way into your heart through lasting memories.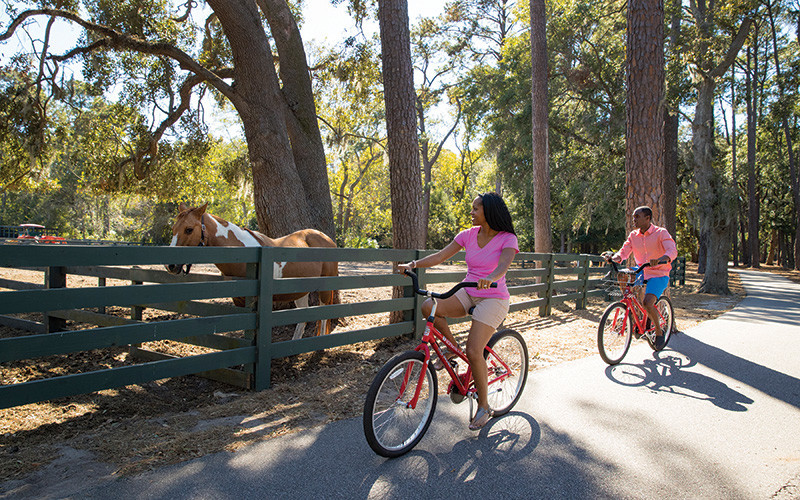 By Land
When I think of Hilton Head Island, the first picture in my head is always wide, pristine beaches. But when it comes to activities on dry land, there's so much more to do on this spectacular island than sunbathe. For example, Hilton Head Island has 60+ miles of leisure pathways, which speaks to the nature-first mentality of the island's inhabitants. It's widely recognized as one of the top bicycle-friendly communities in the United States. Whenever I visit, I love to ride along scenic marshlands, sandy beaches, and picturesque, tree-lined trails and enjoy the wonderfully preserved natural habitats, hoping to spot some of the abundant wildlife, such as pelicans, egrets, or great blue herons along the way. Of course, when you visit you don't need to pedal — the pathways are multi-use. If you're an avid birdwatcher, you'll also want to wander along the Audubon Newhall Preserve's five walking trails to spot the dozens of avian species that call this area home. You won't regret it.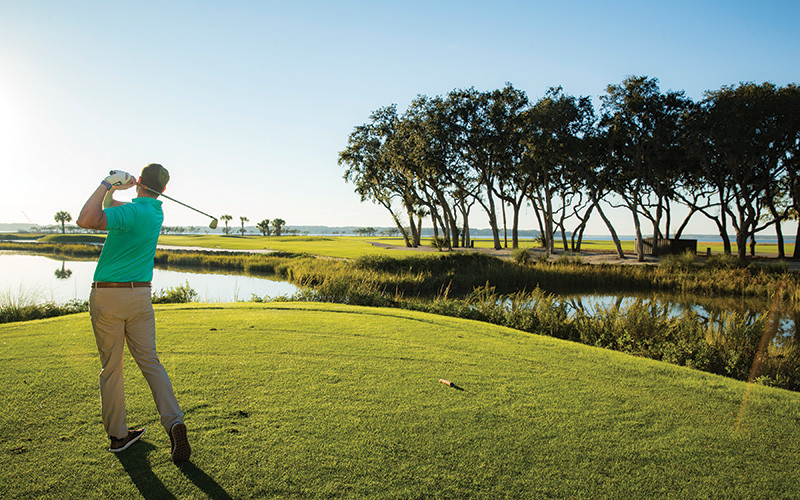 Strolling nature paths is one of the many things you can do while you bask in Hilton Head Island's year-round sunny weather. For the uninitiated: This destination is home to 23 world-class golf courses. My dad and grandpa are partial to the Harbour Town Golf Links, a truly stunning course designed by famed golf course architect Pete Dye and golf legend Jack Nicklaus. Even if you've never golfed before, you'll want to hit the links at least once.
Hilton Head Island also has a rich history and culture, with human habitation dating as far back as 2000 B.C. And the Gullah people, a distinctive community that has upheld its West African legacy through time-honored traditions, helped to shape Hilton Head Island into what it is today. I recommend a visit to Historic Mitchelville Freedom Park, the site of the first freedman's village, or the Coastal Discovery Museum, where you can learn more about local natural history and cultural heritage.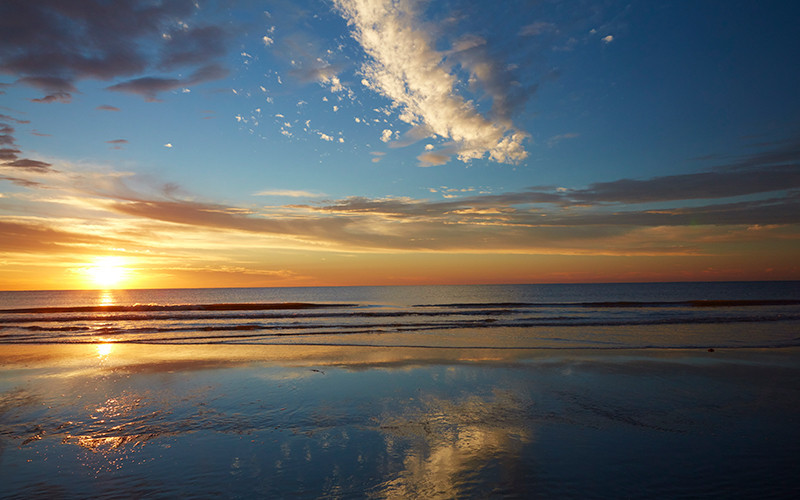 By Sea
Seeing Hilton Head from the water always gives me a fresh perspective on the island. Each summer when I was a kid, my parents, sister, and I would charter a boat to explore Hilton Head Island's unique waterways, and when we visit now, we always plan to spend at least one day out on the water. Surrounded by the Atlantic Ocean and Calibogue Sound and bisected by meandering Broad Creek, Hilton Head Island is ruled by the extreme high and low tides that change the landscape multiple times throughout the day. Growing up in the Lowcountry, I discovered firsthand just how the tides bring out the diversity of wildlife here — at low tide, look for oysters peeking out above the water and fiddler crabs scurrying across the pluff mud in the marsh, or splash in the tide pools that appear on the beaches. Although you can spot dolphins throughout the day, high tide is prime time for a dolphin boat tour — and the experts at Outside Hilton Head or H2O Sports know exactly where to go so that you can see these adorable animals up close.
But maybe you'd prefer a romantic sunset cruise with your partner or a chance to see what you can catch on a fishing tour. Whether you explore by sailboat, kayak or paddleboard, one thing is certain — these well-preserved and protected lands offer intimate nature experiences unlike those you'll find anywhere else.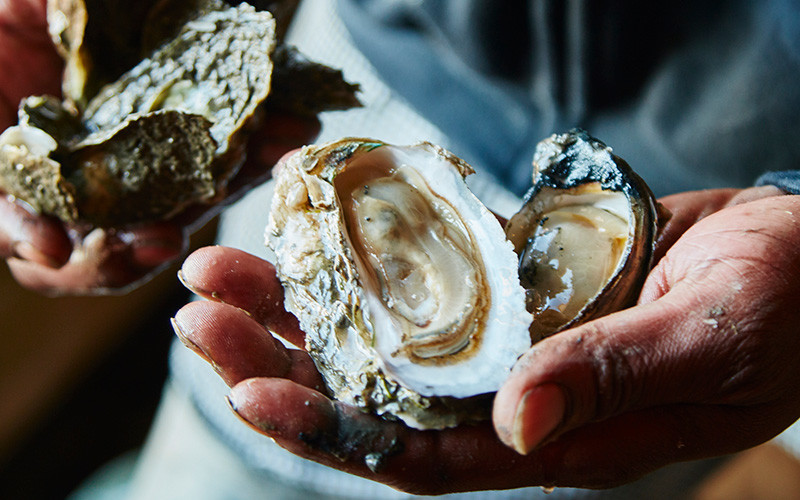 To really experience the waters of Hilton Head Island, though, you're going to want to indulge in the locally harvested seafood. You've heard of farm-to-table cuisine, but on Hilton Head Island it's all about the boat-to-table experience. You won't find big brand-name restaurant conglomerates here — only storied local institutions with fresh catches. If you visit between September and April, be sure to order local oysters; anyone who grew up in the Lowcountry will tell you that any month with an "R" in it is the perfect time for eating them.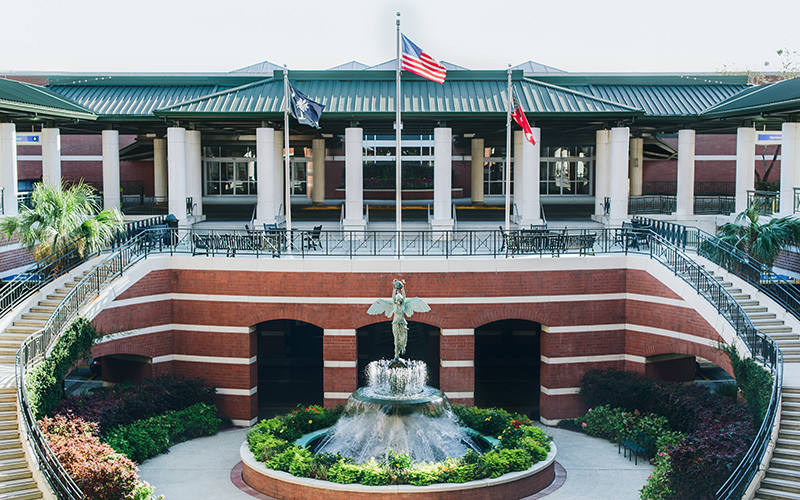 By Air
For a literal change in vantage point, take to the skies. I haven't done it yet myself, but during my next trip, I'm looking forward to taking a helicopter ride for a chance to see the unique shoe-like shape of the island and secret locales only accessible by air. This tour allows you to spot abandoned lighthouses, eerie shipwrecks, and even a remote island populated by more than 3,000 rhesus monkeys. You might even see dolphins, bald eagles, manatees, and other native wildlife along the way.
I'm also looking forward to the physical challenge of balancing, climbing, and swinging through more than 50 different obstacles in the sky with Aerial Adventures High Ropes Course. There are plenty of entry-level obstacles for newbies and kids, but I'm most interested in trying the Single Black and Double Black Diamond, which features activities 36 feet above the ground.
For me, one of the unique aspects of Hilton Head Island's "By Air" experience is that touching down at the Savannah/Hilton Head International Airport (SAV) is more than just a stop on my journey to the island. The whole Hilton Head Island experience really does begin on the runway. The Savannah/Hilton Head International Airport (SAV) offers easy, stress-free travel to Hilton Head Island, welcoming nonstop flights from 29 cities on ten airlines. With rocking chairs and ice cream stands dotting the spacious terminal, it's easy to see why this airport was voted among the top domestic airports by Travel + Leisure readers. As a South Carolinian living in New York City, I find that each landing at SAV feels like coming home, and thanks to its Lowcountry-inspired touches and local employees' warm hospitality, I think you'll get that homecoming feeling, too, whether it's your first visit or your tenth.
Visit here for more trip ideas and start planning your flight here.