Everything You Need to Know About American Airlines Premium Economy Experience

+

We partnered with American Airlines to show how Premium Economy is changing the game in air travel. Book your next flight at aa.com.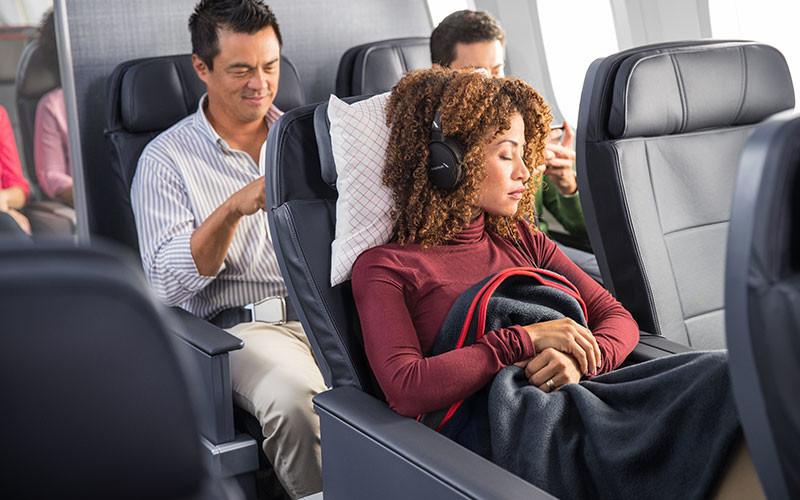 Upgrading your long-haul flights is about to get easier: American Airlines is introducing Premium Economy into many of its international flights as well as flights to Hawaii. That means there's more room, more premium food and drinks, and faster boarding in a lot more people's futures. While you might be accustomed to flying in Main Cabin, Premium Economy builds on the experience by borrowing from some of the features that make Business and First class more comfortable.
Whether you're flying for business or for pleasure, you'll be sure to see Premium Economy on more of your American Airlines flights. Here are just a few ways Premium Economy will make any long flight better.
Faster Check-In and Boarding
One of the first things you'll notice about Premium Economy is how fast the process is. Premium Economy grants you priority privileges, which means you board in Group 4, ahead of Main Cabin and alongside elite frequent flyers. You'll also get your bags earlier when you land, too. That matters for business travelers—especially when you've got a layover of an hour or less.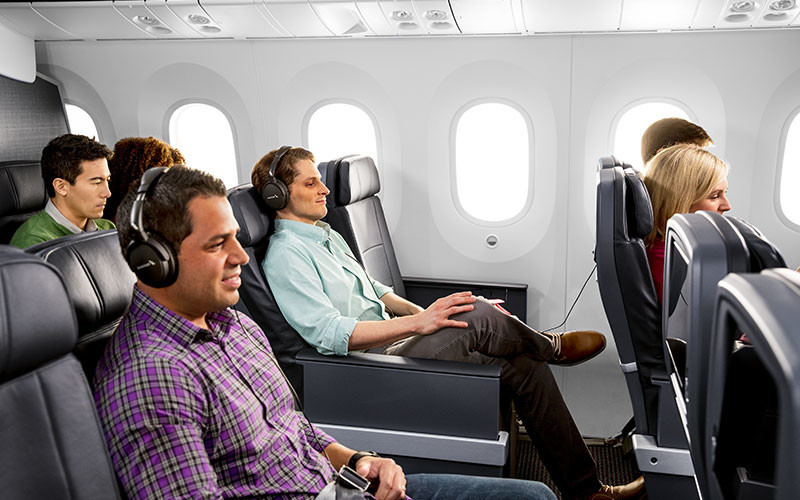 More Room to Stretch Out
The most obvious thing you'll notice when you get to a Premium Economy seat is the amount of extra space. There's more room front to back, and that can make a world of difference on a long flight.
"You don't have to be a giant to be uncomfortable," says Russell McGeorge, a Missouri-based business traveler who's also 6 feet 6 inches tall. "My knees are in the back of seats. That's what it is to be tall."
Whenever he has the option, McGeorge chooses Premium Economy. While seats in Main Cabin have just 31 to 32 inches of pitch, Premium Economy offers a generous 38 inches of pitch—almost 20 percent more legroom to stretch out on long flights. "Whenever the upgrade is available, I pay for it," McGeorge said. Just imagine how much more space average-height people will have!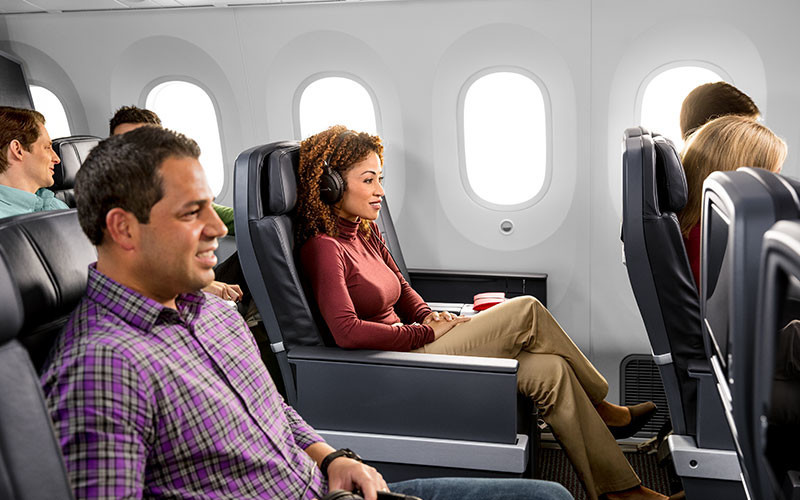 More Room to Spread Out
Not only do Premium Economy seats give more leg room, but they're wider, too. Main Cabin seats are anywhere from 16.2 inches up to 18.1 inches wide, depending on what kind of plane you're on. But every Premium Economy seat is 18.5 inches wide. That means more room to settle in on a longer flight, too, whether that means space for you and your kids to share while going on vacation, or more surface area to increase your productivity working on a laptop or tablet while you're in the air. There are even adjustable headrests and footrests—just another way you'll be more comfortable!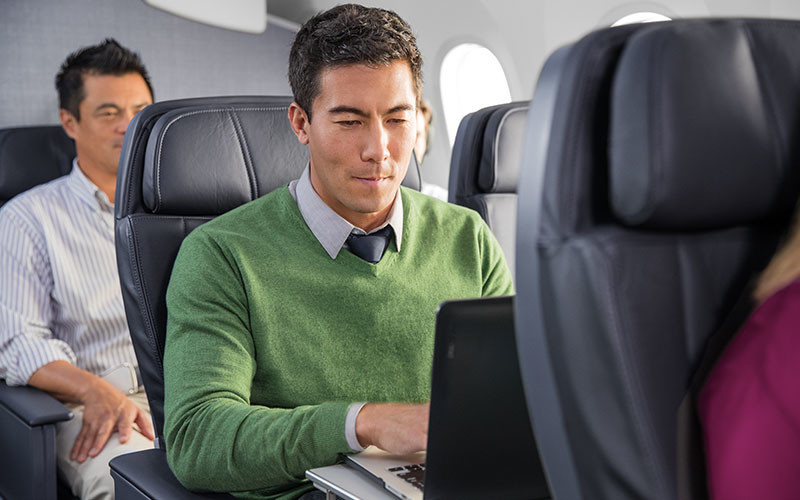 Power and Wi-Fi to Keep You Connected
Each seat in Premium Economy has its own power outlet and USB port, so you don't have to worry about running out of juice if you're working on a long flight. And on select flights, you'll have access to American's high-speed international Wi-Fi so you can stay connected and productive throughout your journey.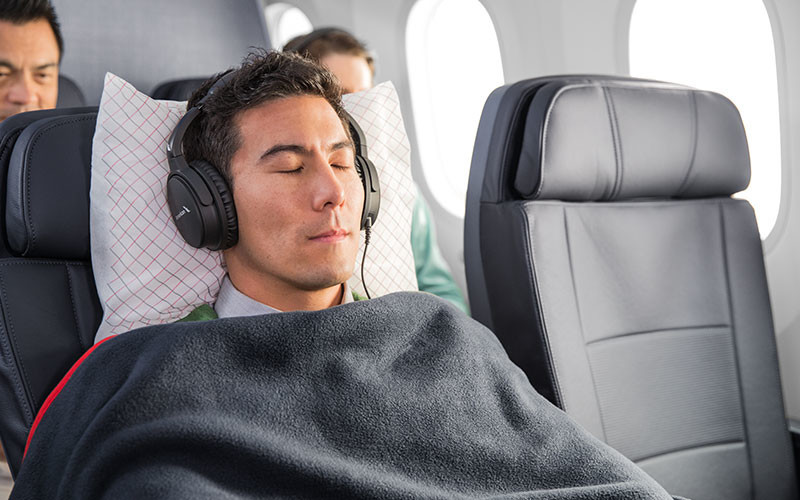 Creature Comforts to Keep You Rested
If you've flown in Business or First class, you're familiar with the swanky amenity kits that keep you feeling fresh and rested: hand cream, noise-reducing headphones, an eye mask, and more. Well, you'll get that pampering in Premium Economy, and then some. And whether you're trying to get some shuteye during a redeye before a business meeting, or just settling your kids in for a nap, Premium Economy's blanket and pillow—designed by the sleep experts at Casper—will bring you one step closer to feeling as cozy as you would at home.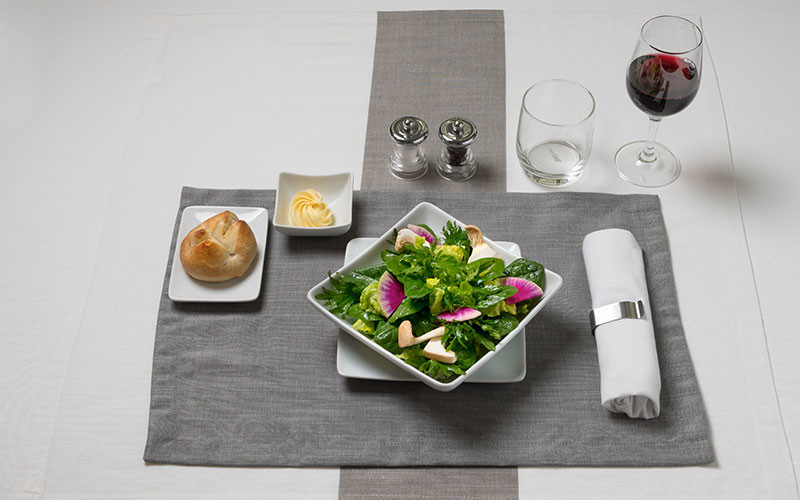 Chef-Curated Dining Options
Who says you can't eat great in the air? In Premium Economy, your meals will include options designed for the air in partnership with a number of great chefs, including Maneet Chauhan and Sam Choy. And drinks are on the house; you'll have a variety of wines, beers, and spirits to choose from on your flight, all vetted by master sommelier and restaurateur Bobby Stuckey.
More Options at Affordable Prices
American Airlines has already added Premium Economy to a bunch of its international routes and flights to Hawaii, and will have Premium Economy on all planes serving those routes by mid-2019. And for the aviation enthusiasts, that means all of American's 777-300s, 787-9s, A330-200s and select 777-200s flying internationally and to Hawaii.
All that added comfort won't break the bank, either. On one sample itinerary from New York to London, Main Cabin tickets were $727, while Business Class tickets cost $6,257. Premium Economy on that same route was just $1,155. On those same dates, flights from Dallas to Honolulu were $949 in Main Cabin, while Premium Economy was just $1,308. That's a whole lot more comfort—and not a lot more money.
Make your next trip that much more comfortable. Start browsing flights today.