Morocco hotels offer many different kinds of travel experiences from intimate, boutique riads to sprawling golf resorts with luxury spas. Beach hotels in Morocco don't get better than Villa Maroc, the best known of Essaouira's riad hotels. With 20 rooms and suites in four restored 18th-century medina mansions, you will be loath to leave your room even though the beach is right outside. Hotels in Morocco tend to emphasize the exotic, but if you're looking for a little Bel Air in your desert oasis, look no further than Jardin d'Inès. Nestled in the foothills of the Atlas Range, Ines is part of La Palmeraie Golf Palace. The large space and big swimming pool makes it the perfect destination for families with children. All suites have fireplaces and terraces, so kick back and relax after you've hit a few rounds of golf.
For an unforgettable experience at one of the best hotels in Morocco, try the desert oasis of Dar Ahlam in Ouarzazate. Dar Ahlam means "House of Dreams," in Arabic, and guests will immediately see why. Thierry Teyssier restored this luxurious retreat in 2002. Guests are treated like royalty and lulled into a utopian relaxation, dozing in a hammock under the shade of a palm tree or wandering the silk-curtained corridors admiring the desert's beauty. For a romantic getaway, try Dar Roumana, a beautifully restored century-old mansion in the medina in Fez. Treat yourself to their sumptuous cooking lessons for an experience that you can take home to impress your friends.
This La Palmeraie 37-room property has a futuristic white-on-white look. Plasma-screen TV's in the bar display abstract art, and bedside tables lit from below appear to levitate.
Closed for three years between 2006 and 2009, the hotel glows again thanks to Jacques Garcia, known for gems like Paris's Hôtel Costes.  The 1923 property has been completely restored and modernized, a three-year project that included cleaning and repairing countless mosaics, moldings, and painti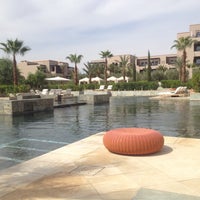 Not all hotels take walk-in clients, but the swanky Four Seasons does. Not only can you burn off your calories in the club, but you can also enjoy a sauna and then treat yourself to a massage in the spa. Working out never felt—or looked—so good.