Countless Parisian hotels, ranging from five-star international properties to family-owned boutiques, make choosing just one difficult. Your budget and your preferred location will help narrow down your options. On the Right Bank, foodies, for example, may want to consider Les Halles, dubbed by the French 19th-century novelist Emile Zola as "the belly of Paris" for its meat and vegetable markets. One of the best hotels in Paris is here—the Ritz-Carlton, on Place Vendôme. Lavish interiors, perfumed air (yes, really), and the Hemingway Bar (the best among Paris hotels), make for a lovely stay if you've got deep pockets. Exceptional architecture, meanwhile, characterizes Le Marais. Of the more affordable nearby options, we like the ivy-covered Le Fauconnier, just steps from the Seine, with its streamlined rooms and sun-soaked terrace. On the Left Bank, the Latin Quarter is known for its leafy, academic sensibility, while St-Germain-des-Prés was once a bohemian hub for great writers and philosophers such as Albert Camus. Here, the excellent service and colorful painted murals give the Hôtel de Nesle a delightful, cozy vibe.
The Hôtel Montalembert is located in the Saint Germain des Prés area of Paris, near the Musée du Louvre and the Musée d'Orsay. Guest rooms and suites feature decidedly modern décor, with clean lines, warm, neutral tones, and modern furnishings.
Before there was William and Kate or even Charles and Di, there was the Duke and Duchess of Windsor, who were the media sensation of their day. Re-opened in 2011, the couple's private estate is available for rent.
A jewel box of a hotel, the 34-room Duc de Saint Simon resembles a private Parisian home, with a black-and-white marble hall, graceful staircase, and rooms decorated in richly colored traditional French fabrics like toile de Jouy.
This elegant new boutique hotel facing the Place de Mexico offers a location convenient to the Eiffel Tower. Each of the 38 rooms and 10 suites are designed by François Champsau and boasts features like Nespresso machine. Classic rooms are 215 square feet, while deluxe rooms 237 square feet.
Located in the Latin Quarter near the small cafés and open-air market of busy Rue Mouffetard, the Five Hotel aims to cater to every sense (hence its name). The 24 small but well-planned rooms have clever details such as adjustable colored lighting and a menu of air fragrances.
For all its refinement and pedigree, the latest hotel to arrive on the Avenue Marceau, in the Eighth Arrondissement, is not at all uptight.
The five-room Hôtel Particulier Montmartre, on a leafy cobblestoned passageway, is a pint-size hideaway with outsize design. The three-story Directoire façade is pleasingly geometrical—lead urns march up the steps to the front door, which is framed by iron lanterns on brackets.
A 580-square-foot one-bedroom apartment in Paris' Latin Quarter, accommodating up to four, with modern, all-white décor, a queen-size bed, a fully equipped kitchen, high-speed internet, and cable.
The majestic 1910 hotel—which recently underwent a $30-million renovation—has grand public spaces and stately rooms filled with Louis XVI-style furniture. The 199-room hotel retains all of the grandeur of it's heyday, thanks to the crystal chandeliers, Roman arches, and Italian marble floors.
For a centrally located stay in Paris, consider the Pierre Seignol-designed Artus Hotel in the lively Left Bank.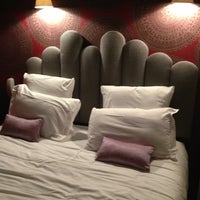 Simultaneously relaxed and effortlessly chic, this boutique hotel has 38 rooms has a decidedly eclectic vibe: medallion and pheasant-print wallpapers, custom-upholstered headboards, mix-matched barstools and ivory marble countertops.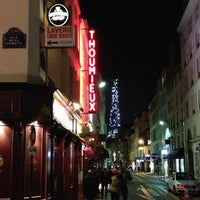 Located between the Eiffel Tower and Les Invalides, this building hosts a busy, downstairs brasserie and upstairs fine-dining restaurant by Jean-François Piège, one of the most talented chefs working in Paris today.
Nestled on the corner of Canal St Martin is this eco-friendly outpost outfitted with iPads in every room and modern Danish furnishings. We love it for its views of the charming bridges and its on-trend, neo-Scandinavian style.